The Zionist Council, The Israel Forever Foundation, and AACI
are proud to co-sponsor
THE UN VOTE THEN AND NOW
Tuesday, November 29, 2016 • 10:00 - 17:00
Location: AACI Glassman Family Center in Talpiot, Jerusalem
[4th floor at 2 Poalei Tzedek / corner of 37 Pierre Koenig]
Time: 10:00 - 17:00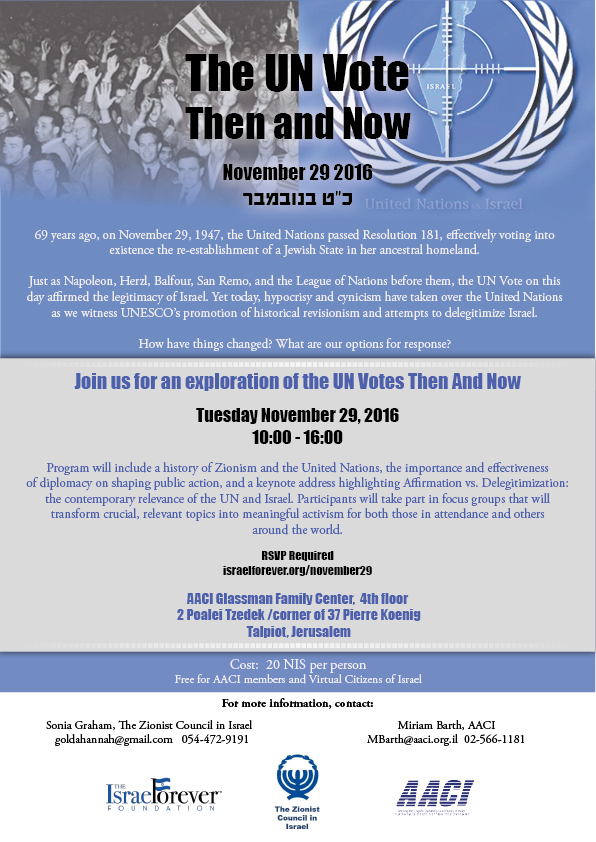 *RSVP REQUIRED*

COST: Entrance Fee - 20NIS
 Free for AACI and VCI members

Transportation available from Netanya/Raanana/Modiin
Bus fee - 50NIS including entrance
Bus Only for AACI/VCI Members - 35nis
*Not yet a VCI? Register now »

ABOUT THE EVENT

69 years ago, the United Nations passed Resolution 181, effectively voting into existence the re-establishment of a Jewish State in her ancestral homeland.

Just as Napoleon, Herzl, Balfour, San Remo, and the League of Nations before them, they affirmed the legitimacy of Israel.

Today, hypocrisy and cynicism have taken over the United Nations as we witness UNESCO's promotion of historical revisionism. The lies and propaganda of the delegitimization perpetrators and Israel boycotters are growing in an attempt to demonize, isolate, and persecute Israel, her citizens, and her supporters around the world.

How have things changed? What are our options for response?
TAKE ACTION AND EXPRESS YOUR PRIDE AS A VIRTUAL CITIZEN OF ISRAEL
Sign to express your outrage at their denial of our historical connection to Jerusalem and the holy Temple Mount, Har HaBayit.



---
Recommended for you:
---
BRING ISRAEL INTO YOUR LIFE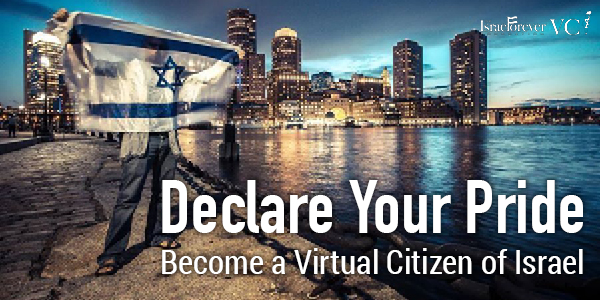 Sign Up to be a Virtual Citizen of Israel Today!