Joseph Gitler, CEO & Founder of Leket Israel, the National Food Bank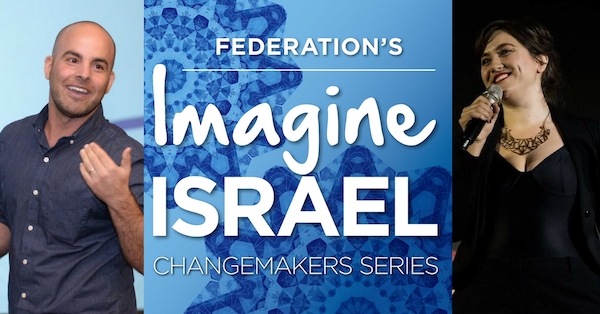 | | |
| --- | --- |
| When: | April 25, 2018 7:30 PM to 9:00 PM |
| Summary: | Dynamic Israeli agents of change lead community conversations about their unique ideas and influential actions that disrupt Israel's status quo and affect social change in Israeli society. |
| Where: | TBD |
| Contact: | Dani Mzhen at dani.mzhen@shalomdc.org (301-230-7262) |
Event Details
The Israel Forever Foundation is a proud community partner for
Federation's Imagine Israel Changemakers Series

Invigorate your passion for social change in 2018 with Federation's Changemakers Series! Dynamic Israeli agents of change lead community conversations about their unique ideas and influential actions that disrupt Israel's status quo and affect social change in Israeli society.

$18 for one ticket - includes one Changemakers Event
$25 for the combo ticket package - includes two Changemakers Events

Meet Israel's New Pioneers from Mission-Driven Communities
Wednesday, February 7
7:30 p.m. - 9:00 p.m.
VisArts in Rockville

Thousands of ideologically motivated young adults are moving to underdeveloped towns and cities in Israel's periphery, to build social, mission-driven communities. Hear how two of these urban influencers revitalizing cities on Israel's previously neglected geographical and social periphery, transforming them into communities of culture, opportunity and prosperity.

Joseph Gitler, CEO & Founder of Leket Israel, the National Food Bank
Wednesday, April 25
7:30 p.m. - 9:00 p.m.
Location TBD

Learn how Gitler turned his one-man mission into Israel's largest food bank rescue network, which feeds more than 200,000 impoverished Israelis every day.