Mohn in the Pockets: Israel Flavor for Purim
There is much speculation as the reason we eat these triangular little pockets of deliciousness. Regardless, here is our favorite Israeli-style recipe and a few others to bring some Tastes of Israel to your table for Purim!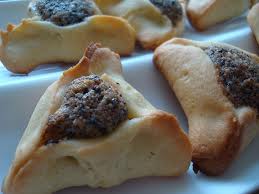 ISRAELI STYLE OZNEI HAMAN
Ingredients
200 g of butter or margarine, cut into small cubes
2 cups flour (300g)
½ tsp baking powder
100 g powdered sugar
1 tsp vanilla essence
1 tsp. orange zest (did you know this helps the dough from spreading?)
¼ tsp salt
¼ - 1/3 cup milk
Directions:

1. In a food processor combine the butter and the flour, baking powder, powdered sugar, vanilla essence and salt. Process until the mixture is crumbly.
2. Add the milk gradually and only enough for dough to form (try to use as little milk as possible). Form the dough into a ball, cover in cling wrap and refrigerate for an hour or two.
3. Heat the oven to 180 C 
4. Roll the dough onto a floured surface until it is approximately 3mm thick, cut into circles.
5. Take a teaspoon of filling (if you are using dark chocolate, use one square of a slab for each) and place it in the center of the dough. 
6. Fold the dough on 3 sides to the center to form a triangle, lightly pinch them together. 
7. Place on a baking tray, lined with baking paper, and bake for 15-20 minutes until golden.
8. Allow to cool and sprinkle with powdered sugar for decoration.
9. Makes about 40 - 50

Popular Israeli fillings:
Poppy seed
Date filling
Dark chocolate
Halva
Nutella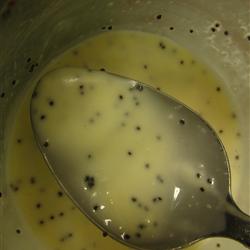 POPPYSEED DRESSING FOR SALADS, SPINACH LEAVES AND COOKED POTATOES
Ingredients:
1/2 cup oil
1/4 cup brown sugar
5 tablespoons of vinegar
2 tablespoons chopped green onions
1/2 teaspoon salt
1/2 teaspoon dry mustard
2 teaspoons poppy seeds.
A pinch of tarragon.

Place everything into a jar or bowl and mix well. Serve over salad, over cut up cooked potatoes or even over cooked beets and cut up red onions.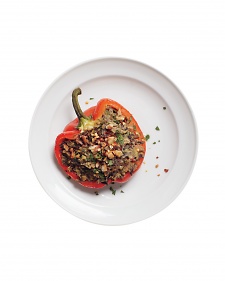 STUFFED PEPPERS WITH WILD RICE AND HUMMUS
Ingredients
2 cups cooked wild rice
1 cup hummus
1/3 cup chopped toasted walnuts
1/3 cup chopped fresh parsley
Coarse salt and freshly ground black pepper
Red-pepper flakes
2 halved small bell peppers (seeds removed)
1 tablespoon extra-virgin olive oil
Directions

Heat oven to 400 degrees.
In a bowl, mix 2 cups cooked wild rice, 1 cup hummus, 1/3 cup chopped toasted walnuts, and 1/3 cup chopped fresh parsley.
Season with coarse salt and red-pepper flakes.
In a baking dish, arrange 2 halved small bell peppers (seeds removed) cut sides up.
Drizzle with 1 tablespoon extra-virgin olive oil and season with coarse salt and freshly ground black pepper.
Divide rice mixture among peppers. Cover with parchment-lined foil and bake until tender, about 30 minutes.
Uncover and cook until topping is slightly crisp, about 10 minutes more.
Garnish with more chopped toasted walnuts and parsley.



BIRD'S NEST BAKLAVA by Cafe Liz of Tel Aviv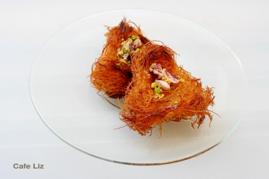 Ingredients:

3/4cup or 150g kadaif noodles
1/2 cup butter

For the syrup:
1/4 cup honey
1/4 cup water
2 tablespoons sugar
1 teaspoon lemon juice
1/2 teaspoon rose water

For the stuffing:
1/4 cup smashed/chopped pistachios (or other nuts if preferred)
Let your kadaif noodles thaw in the bag for about 30 minutes.

Preheat the oven to 150 degrees Celsius (300 Fahrenheit). Melt the butter (I microwaved it for a minute). Line a large baking tray with baking paper.

To form the nests:
Take a chunk of noodles, lay them out in a long strip, and brush generously with butter. Twist the strip a few times in order to make a loose rope, and then wind the rope into a coil. This should give you a round nest. Press in the sides to make a triangle shape, and poke your finger gently into the top to make sure there's a hollow. Put the triangle on your baking tray.
Repeat with the rest of the dough, to form 16 nests. You may not need all the butter (I brushed the rest on top of my little triangles). Put the nests in the oven for 10-15 minutes, until golden, but don't let them become dark brown or burn. Some of the noodles inside the nests may still be white when you're done baking.

While the nests are baking, make the syrup: Put everything in a saucepan and bring to a boil. Let it cook for 10-15 minutes, too, or until the liquid has a thick, syrupy consistency.

Set aside three pistachios for each nest (a total of 48) and crush the rest. I would have used my coffee grinder if it hadn't had coffee in it.

Once the nests are out of the oven, sprinkle a small bit of ground pistachio into each nest and then press in three pistachios (or chopped nuts of your choice). Drizzle with syrup — I used about 1/3-1/2 tablespoon for each nest, because I didn't want them to be too sweet, and had some syrup left over. (You could use more syrup if you want, though — to taste).
HAVE A RECIPE YOU'D LOVE TO SHARE? Send it to us to add to our Tastes of Israel collection! info@israelforever.org
---
Recommended:
---
CELEBRATE PURIM WITH ISRAEL FOREVER