Shalom friends,
The birthday of the world is upon us with Rosh HaShanah beginning Wednesday, September 20th at sundown.

Rosh HaShanah is a time of reconnecting with ourselves and with each other. In Israel, the chagim - חגים are a national celebration for religious and secular alike.
Israel Forever is here to help you add Israel to your holiday preparations.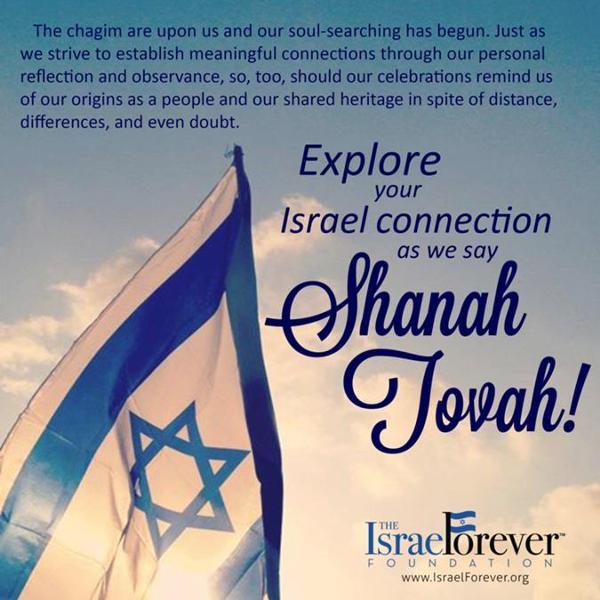 The Israel Forever Foundation develops and promotes opportunities to help you bring Israel into your Chagim.
Rosh Hashanah Reflections of Israel and Art
By Stefanie Heideman


Rosh Hashanah is the time of year to reflect upon the blessings we have in our lives, what makes us happy, and the changes we would like to make for the upcoming year. No matter your age, or the age of your students, it is the perfect time to reflect upon your life, draw a picture of things you are thankful for, and write something from your heart on paper.

Rosh Hashanah Gift: Buy For Good Honey Candle Greeting


Buy For Good is proud to partner with The Israel Forever Foundation on this meaningful Rosh Hashanah gift opportunity. By participating in this effort you can send a gift from Israel to your friends and loved ones for a sweet new year while providing employment opportunities to at risk youth. It's a beautiful way to Show Israelis You Care and bring a smile to the faces of your recipients.

10 Ways You Know Rosh Hashana is Approaching in Israel
By Judy Lash Balint


Israel Forever Blogger, Judy Lash Balint, shares how the Jewish community is getting ready to celebrate the holiday of Rosh Hashana.

Finding Israel, Finding Roots on Rosh HaShanah
By Dr. Elana Yael Heideman


Rosh Hashanah should remind us of our origins as a people and our shared heritage in spite of being scattered across the four corners of the earth. With everything happening in the world, how can we afford NOT to include also a reflection of how our connection to Israel, our ancient homeland, can be emphasized, celebrated, strengthened in our hearts, in our homes, our communities, and with our family and friends?

A Dose of Nuance: What we talk about when we talk about Israel
By Daniel Gordis

As Rosh HaShanah is approaching we contemplate Zionism's purpose actually something else, perhaps a platform from which the Jews could model for the world the kind of flourishing that can emerge when we combine history, culture, and homeland.

---
Get ready for Rosh HaShanah with our Cooking Israel Chagim Cookbook!