ShalomFriend,

There are people in our lives who inspire us. From their acts of kindness to their sheer brilliance. From making a difference to just being different.
Sometimes they are famous. Sometimes we don't even know their name. Sometimes we quote them. Sometimes they become inspirational slogans taped to our doors or a chant we recite before a big job interview. Sometimes they are words of wisdom or sound advice, and you remember how they inspired you through the difficult times and how you will inspire others with their stories too.

Tu B'Shevat may have just ended, but we at Israel Forever are continuously sprouting love and pride in Israel with seeds of inspiration that help YOU keep your connection vibrant, dynamic and real - on holidays and every day.

Who gives YOU your seeds of Israel-inspiration in your life in the Diaspora? Who guides you as you navigate through the politics and chaos of life as an Israel-loving Jew in the world?
Seeds of Inspiration from IFF Bloggers

Our Israel Forever bloggers are a diverse group of writers from around the world. They provide us with a dynamic collection of personal perspectives, insights, and stories that inspire others to explore and strengthen their own personal connection to Israel, but who planted those seeds in them and encouraged them to become an inspiration?

Always Inspired: Remembering Elie Wiesel
By Dr. Elana Heideman

To Elie every life was valuable, and every individual endowed with infinite worth. He enjoined us to speak out on behalf of the world's victims and to hold those in power accountable for mass atrocities that go unaddressed.

Star of David Inspired: Design as a Way of Life
By Ruth Safrir

"Having lived in Israel since always, I never had to reflect much on my Jewish identity. Here in Israel being Jewish is sometimes 'taken for granted' as most people around you are probably Jewish, school breaks are according to Jewish holidays and Fridays at 2pm everything shuts down and the magical shabbat atmosphere takes over."

Unexpected Inspiration on a Cold Winter Night
By Romi Sussman

It's not often that you get a history lesson along with a story of hope and perseverance from the person that comes to repair your air conditioning unit. But, when you live in Israel, that is pretty much par for the course.

My art is inspired by her landscape
By Igor Mojzes

I find inspiration in the landscape of Israel and I attempt to express the feelings which it evokes throughout my drawings.
---
Holocaust survivors have been an inspiration for so many of us throughout the years. JOIN US as we celebrate the continued survival of our nation this Purim with personal messages and mishloach manot for survivors around Israel!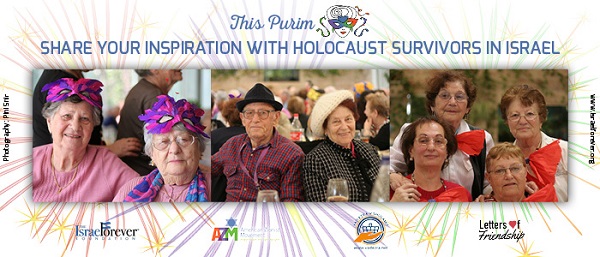 Be a part of this special initiative in collaboration with
the American Zionist Movement and Yad Ezra V'Shulamit
Make a difference in a survivor's life today!

---
Join us on Facebook and Twitter and don't miss out on the best of what to read to be Israel-inspired every day!