Shalom friends,
For 2000 years there was not a Jew in the world whose well-being was not ultimately in the hands of non-Jewish regimes. Much of Jewish history is written as a tragedy and last week we marked a time when the non-Jewish world seemed divided only between the genocidal and indifferent. Today we still face the pervasive evils of terrorism, at home and abroad, carried out for the simple fact that we are Jews.

Just about every individual in Israel, every citizen, is personally connected to a friend, family member or acquaintance that gave their lives for our Jewish State.

Today we mourn their absence, and tomorrow, we will celebrate their sacrifice that helped perpetuate the ideals of Zionism and maintain the State of Israel for the past 69 years.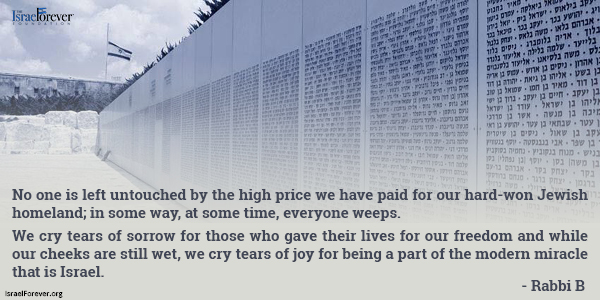 Memory Of Our Fallen: A Nation Unites
By Dr. Elana Yael Heideman

Every year, as Yom HaZikaron arrives, native Israelis and those who moved here from the four corners of the world, unite in memory of the fallen soldiers of Israel.

In defense of all of us
By Justin Amler

Jews are a people who have been dispersed across the world through thousands of years of war and expulsion. But despite the often vast distances between communities, we have a commonality between us – a bond that binds us together, so that even when a Jew from South Africa meets a Jew from Argentina or a Jew from Israel – we have an immediate connection.

Ema, Was it Very Meaningful? Remembering #EyalGiladNaftali
By Shayna Goldberg

My 4 year old wants to know if it was the Romans who killed them. "No", I tell him "other very very bad people." My children have a lot of questions. The same questions we all have.

Child of Hope and Home of the Brave
By Paula Wertheim

Watch Paula Wertheim's video tribute to Israel in her mosaic "Israel-Child of Hope, Home of the Brave"

Cry For You - אני הולך לבכות לך


Listen to a classic song for Yom HaZikraon, Israel's Remembrance Day for Fallen Soldiers. The singing voice of Arik Einshtein is heard throughout ceremonies on this day of mourning and remembering.

The Club No One Wants To Belong To
By Pnina Weiss

Every Israeli has a compelling story well worth listening to. Not all of them have perfectly happy endings, but, when you put them all together, they add up to what makes Israel the amazing nation that it is. Life isn't always meant to be easy, and – more often than not – the hardships you go through make you appreciate what is really important and what must never be taken for granted.
---
Experience Yom HaZikaron and Make the Memory Personal
Click HERE for more Yom HaZikaron Resources
---
Join us on Facebook and Twitter and don't miss out on the best of what to read about Israel!