The Israel Forever Foundation is proud to be a co-sponsor of
We Stand UNited with Israel Rally
Thursday, January 12, 2017
12:30PM
at French Mission to the UN • 885 Second Avenue (at 47th Street) • New York, NY 10017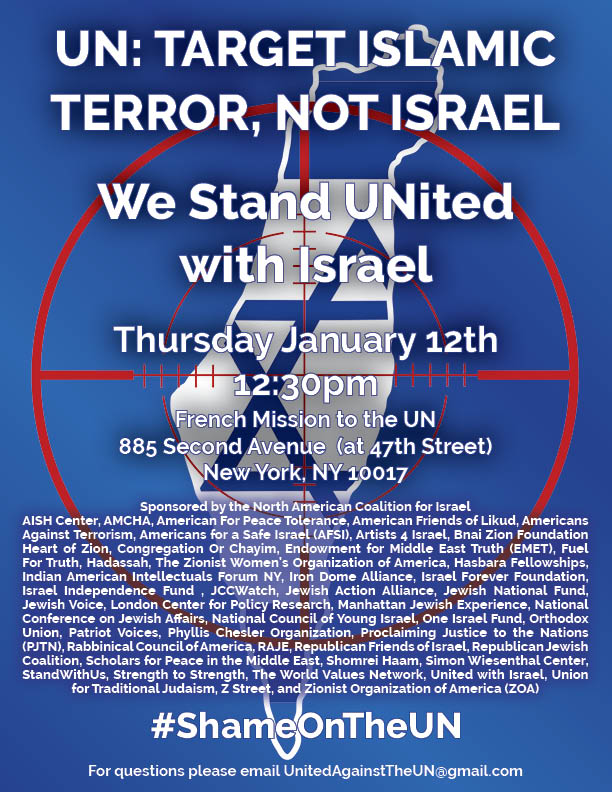 Join us as we stand UNited with Israel! Stand with us to send a strong message prior to the Mid-East Summit in Paris being held January 15th -- we will NOT allow the UN and her gang of Israel haters to target Israel unjustifiably. NO MORE Anti-Israel documents or resolutions! The UN's attempt to revise and erase Jewish history is deplorable. We call on the UN to focus on REAL issues such as Syrian Genocide and Global Islamic Terror instead of vilifying Israel unjustly.
PLEASE SHARE WIDELY
#ShameOnTheUN
---
Don't live in New York?
You can still use your voice as a Virtual Citizen of Israel!
1) VCI's receive a 10% Discount off Limited Edition "Art Over War" Collection created by One948 and Artists4Israel
2) Create a gathering in your community to educate others as to why the UN bias is so dangerous
3) Sign your name to the Balfour Declaration as a demonstration of our collective commitment to protect our historical and legal rights!
4) Select your favorite banner to print, post and tweet!