Shalom friends,

The Purim tale is one of the Jewish people's triumph to outlast one attempt after another to destroy us. Make Israel a part of your Purim celebration with Israel Forever.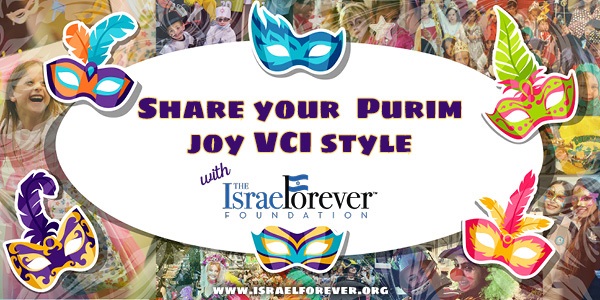 Purim starts Saturday night, March 11 this year.
Get your costumes, noise makers, and Hamentashen ready!
Plan an Israel Inspired Purim party in your community!
Show your pride as a Virtual Citizen of Israel!
A Purim to Remember: Celebrating Life With Holocaust Survivors
By American Zionist Movement

It is almost Adar which means Purim is a close at hand. On March 8, 2017, we will host festive Purim events in Jerusalem and around the country for survivors and volunteers. Together, we will package mishloach manot (Purim baskets) to be delivered to survivors.

Purim: The Danger of Not Knowing The Difference
By Dr. Elana Heideman

As we can see in the headlines year after year, the Nation of Israel is at no shortage of people who are set out to destroy us. Many times the reaction to these newsbits is a heaving sigh... "yada, yada, yada, what else is new?"

The Therapeutic Joy of Purim
By Rabbi Lord Jonathan Sacks

Global religious leader, Rabbi Lord Jonathan Sacks, explains how we must never let ourselves be intimidated - and the Jewish way to avoid this is marbim be-simcha, to increase our joy. The people that can know the full darkness of history and yet rejoice is a people whose spirit no power on earth can ever break.

Purim: When Hebrews Became Jews
By Rabbi Lazer Gurkow

Did you know that the first time the word Jews is used to describe the Chosen People, is in the text of the Scroll of Esther?

Purim: An Order Out of Chaos
By Dasi Fruchter

Dasi Fruchter shares why out of all the Jewish holidays, she's always felt the most ambivalent about Purim.
---
Learn how you can participate as a VCI.
The Purim Aliyah Connection
By Eric Gartman

IWith Purim approaching, it is fitting that we should remember another Purim day many years ago, a Purim unlike any other, one that played a major role in the development of the State of Israel.

Liminality and Purim
By Jenna Rose Alpert

The real goal of Purim is to flip our routine, our inhibitions, our egos, our judgments on their heads. And maybe, just maybe, when we are all upside down, the illusions of barriers that separate us will fall away and what is usually hidden - our truest, deepest selves - will come forth and we will be able to see the hidden sparks of light in every one.

Israelis: Don't Worry, Be Happy
By Jonathan Feldstein

Here in Israel we have meaning from our collective past, from our history, from having a bit of struggle, from seeing miracles as part of our survival to see the Jewish dream materialize and us being a part of it..
---
CELEBRATE PURIM WITH ISRAEL FOREVER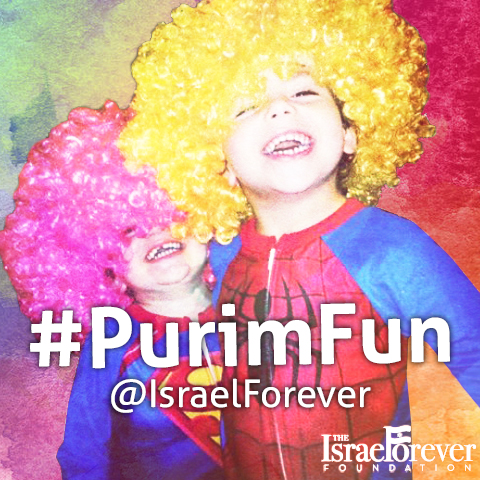 Bring Israel into your Purim celebrations today!
---
Join us on Facebook and Twitter and don't miss out on the best of what to read about Israel!