Shalom friends,
The Israel Forever Foundation is a proud co-sponsor of Ambassadors Against BDS on March 29, 2017, at the United Nations Headquarters in New York City.
We encourage you to use your voice as a Virtual Citizen of Israel to declare your support for every effort taken to defeat the rising tide of hatred against our Jewish nation and our Jewish rights.
This is a FREE event with RSVP. Space is limited - please register today!

ABOUT THE EVENT
---
Since May 2016 thousands of students, professionals, and academics have joined the fight against the BDS Movement. We have seen our efforts met with success, as the BDS Movement continues to suffer setback after setback.
However, the United Nations Security Council recently passed a shameful resolution condemning the State of Israel, and called on member-states to take additional punitive measures. Unfortunately, the passage of this resolution will likely lead to an increase in campaigns aimed at promoting the boycott of Israeli businesses, culture, and academic institutions. ​
In order to stop them in their tracks we need to stand strong, and stand together.
Join us as an Ambassador against BDS at the United Nations General Assembly Hall, to combat the international campaign of demonization and delegitimization and to proclaim your unequivocal support for the State of Israel.
We will hold high-level discussions on topics including the use of digital media, diplomatic tactics to combat the BDS Movement on college campuses, and much more. Participants and speakers will include government officials and professionals from the academic & private sector.
By focusing on diplomatic and academic strategies we will cultivate new Ambassadors, like you, to be ready to fight.​
For more information, click HERE.
Unable to attend? RAISE YOUR FLAG of commitment wherever you are in the world. Whether in private or public, our connection to Israel is a spark of light. Let us inspire our resolve to fight against those who seek to destroy us.
What You Need to Know About Anti-Israel UN Resolution 2334


Confused about the recent UN Resolution against Israel? These are your must-read to be in the know and stop the lies.



Myths and Madness in the Middle East
By Aryeh Green

The Middle East is full of Myths and Untruths. Aryeh Green addresses three fundamental myths of the Arab-Israeli conflict, crucial to anyone who wants to understand this area of the world.



Beating BDS
By Joseph H. Tipograph

Discussing the framework for understanding the fight against BDS based on a conference of legal scholars at the UN in November. In this blog, he applies this framework to the recent events surrounding Airbnb's listings in the West Bank.



Take Action to Fight For Our Rights
By Diane Weber Bederman

Israel is a Jewish country and it is one in which our ancestors dwell close by. A country where our eternal capital of Jerusalem is within reach by bus or car. A country where you can hike across the same valleys our forefathers hiked thousands of years earlier.

The Fetid Stench of BDS
By Tricia Schwitzer

Just as a rose by any other name would smell as sweet, so too would BDS by any other definition smell as fetid. It is no less a dirty ploy by ill-meaning, Israel-bashing, Jew-hating folk to undermine the credibility, the legality and the fiscal standing of the State of Israel.
---
Share YOUR voice for Israel in a unique and dynamic way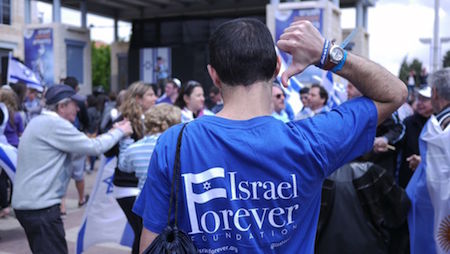 ISRAEL FOREVER AMBASSADOR PROGRAM


Join our Facebook community and follow us on Twitter so that you don't miss out on the best of what to read about Israel!