Shalom friends,
Israel is known as the Land of Milk and Honey. Shavuot Recipes with an Israeli Twist! Try these dairy traditions that reflect Israel's multicultural society! Join Israel Forever as we share recipes for savory dishes for this holiday season and beyond. B'Teavon and enjoy!

B'Teavon and enjoy!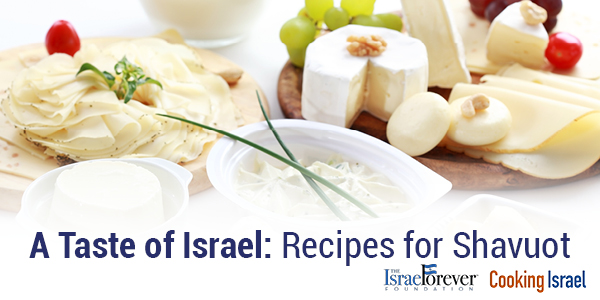 | | |
| --- | --- |
| | Let the aromas and flavors remind you of Israel, far away, but forever in your heart and in your life! |
| | The traditional foods consumed during Shavuot are not for the faint of heart. They consist of a lot of cheese-filled treats. Try this Taste of Israel recipe for your Shavuot meal! |
| | Exotic dishes that are big on flavor, aroma and spice--that describes Moroccan food. Add an Israeli twist, and you are in for something truly unique and special. |
| | Israeli cuisine joins the flavors that immigrants brought from their native lands. The Kurdish diet includes a wide variety of fruits and vegetables. Add an Israeli twist with a slice of apple and honey with the cheese on the inside!!! |
| | Also called kaese fluden or German layered cheese pastry, this cake is light and airy, perfect for an end to a Shavuot meal or any time. For the real Israeli twist, add date honey (silan) or chopped dates inside! |
---
Shavuot is a holiday celebrated by enjoying a feast of dairy products, and Israeli cheese dishes are some of the best in the world.




HAVE A RECIPE YOU WOULD LIKE TO HAVE FEATURED? Share it with us now: cooking@israelforever.org
Join us on Facebook and Twitter and don't miss out on the best of what to read about Israel!