Shalom friends,

"A human being mints many coins from the same mold, and they are all identical. But the Holy One, Blessed be G-d, strikes us all from the mold of the first human and each one of us is unique." (Mishnah Sanhedrin 4:5)

Each of us is created B'tzelem Elokim, in the image of G-d. Yet, Jews with physical, developmental, emotional, intellectual, and other disabilities do not have the same opportunities to participate in the richness of Jewish life because multiple barriers still exist in attitudes and access.

February is Jewish Disability Awareness and Inclusion month. Join us at Israel Forever in making Israel engagement available to every Jew.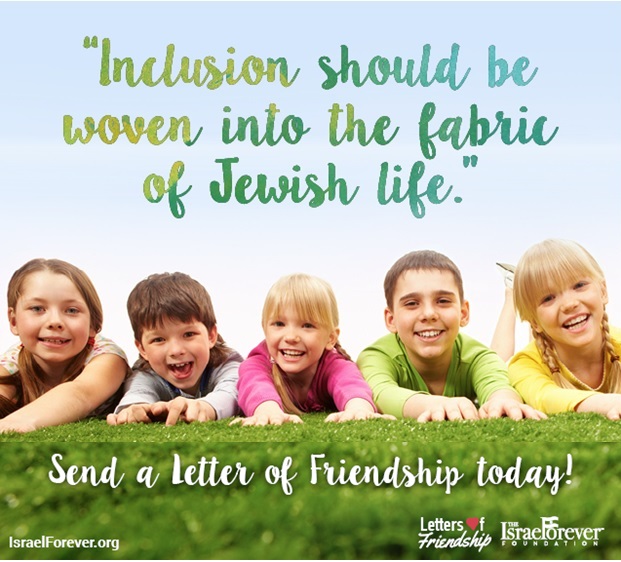 Jewish Disability Awareness
By Heidi Krizer Daroff

February in Washington, DC usually means shorter days, colder temperatures, and snow. For the past few years though it has meant something entirely different throughout the Jewish World. February is Jewish Disability Awareness Month, a time when Jewish organizations, schools, synagogues and the like spend time learning about how to create a more inclusive environment.

A Special Restaurant
By Judi Felber

The Harutzim Bistro employs and trains people with disabilities in all areas of restaurant work, giving them a future that can make Israeli society proud. The combination of great food and added social value, together with its calm and clean ambience, makes Harutzim Bistro the perfect spot for a bite to eat in Jerusalem.

Buy For Good
By Yuval Arbel

In today's competitive world, work is not just about what you do, but it also forms your identity. Think for a minute and answer one simple question: How would you introduce yourself to a person you have never met before?

All Virtual Citizens of Israel™ are entitled for a 10% discount on all product purchases on BuyforGood.biz.

Accommodation vs Inclusion: How Israel is Unique
By Rachel Moore

Every community has children that are categorized as "special needs". Different countries, different cultures, different regions approach how to meet those special needs in their own way. The approach at Sadna Shiluv in Gush Etzion epitomizes so much of what what is to love about Israel and why we are such a beautiful and unique nation.

Caleb's Story
By Beth Steinberg

At Shutaf we see day camping as the perfect platform for pushing the inclusion envelope. Informal education frees educators and parents from the concerns of school curricula focused on academic excellence and achievement. At camp, children with more limited independent living skills, developmental differences, or more challenging behavioral disorders can all be given the inclusion opportunity.
---
WRITE TO ISRAELIS WITH SPECIAL NEEDS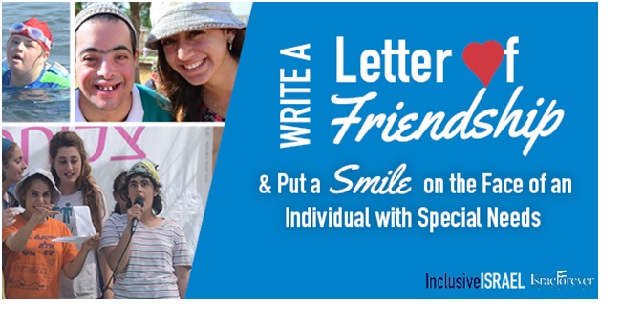 YOU have the power to make a difference in their lives by sharing your words of support and encouragement!
Join us on Facebook and Twitter and don't miss out on the best of what to read about Israel!