Shalom friends,
The increase in horrific terror attacks around the world are, sadly, no surprise to us here in Israel. Our prayers go out to the victims of this savagery, we know and understand the pain each one causes.

What a difference, however, in how the world relates to the same events when they happen on our soil, here in the Land of israel.

In every instance of terror in Israel, we, the victims and general citizens alike, are deemed responsible because of the political bias many have over Israel's policy or over our existence as a Jewish State.

Car rammings and stabbings are nothing new, contrary to the statements made by several politicians, most recently the Mayor of London Sadiq Khan (who also claimed that "terror attacks are a part of living in a big city). We have been living with these attacks by extremist, hate-filled Muslim Arabs determined to destroy Jewish life, Israel, and our resolve to resist their tyranny for over 7 decades, actually, with the most recent wave of the last 2 years having taken and affected too many innocent lives.

And yet, terror in Israel remains unreported or, in most cases, distorted by the press and minimized. Our casualties don't matter. Our terror is "justified." We "deserve" it. And of course, it's ALL because of the "occupation" which MOST people have no concept of what the accusation even means. All they know is, Jews have it coming to them.

Now, more than ever we must speak up and expose the terror support network. Throw out political correctness. Support the efforts to identify and hold responsible those calling for the killing of innocent people. Those who incite violence must be exposed and confronted.

But most of all, don't leave Israel out of the picture. The world can learn a tremendous amount from what we know about terror, having lived through it so endlessly since even long before Israel's declaration of statehood in 1948.
TALK about Terror among your friends and colleagues. Talk with your kids.

Come explore images, videos, and words as a light in the darkness and a hope for our future.
United by Terror
Dr. Elana Yael Heideman


We must declare, as one, that it is terror that unites us. Why? Because it is our collective ongoing reminder that the hate will never subside, that it isn't about borders or building or security fences, that it is precisely our extermination they seek, again.

Responding to Terror through Love and Strength
Jennifer Dekel

It is my prayer and hope, and my plea to others, to heed the messages of the victims' families. As we continue with daily life, regardless of where we live, we should move forward in unity, striving to become better human beings and closer to G-D, and always keeping our arms wide open to all of our fellow brethren.

Surviving Terror: Listening To Their Voices, Understanding Their Lives
Zieva Dauber Konvisser

Survivor stories help to personalize and contextualize historical events, humanize the people who have survived or perished, and establish real faces in the overwhelming sea of facts and statistics.

Read More

For more stories and discussion prompts, click

HERE

A Complicated Story of Terror and Pride
Heidi Krizer Daroff

It seems that to live a life connected to the Jewish nation and her people is to live a life where the pain of terrorism rears its' ugly head.

Our Answer to Terror
By Rolene Marks

Terrorists have very simple intentions. Kill as many as possible and create an atmosphere of deep terror, the kind that holds its victims in a perpetual state of siege, afraid to leave their homes or go anywhere.
---
May the victims of terror and their families be comforted, and may the wounded find a speedy and full recovery. May the memory of these and all victims of terror, whether they be Israeli, British, American, French, Russian, Egyptian, Afghanistani, or from elsewhere, be protected through our commitment to a celebration of their life and to the future.

AM YISRAEL CHAI!
ISRAEL FOREVER.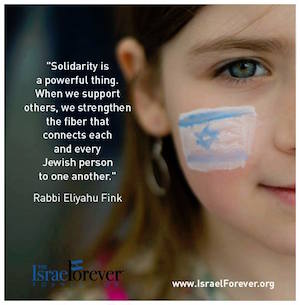 Join us on Facebook and Twitter and don't miss out on the best of what to read about Israel!