Shalom friends,

Only a short time ago, we were outraged by the arson terrorism that took more than 3000 square feet (290 square) meters of our trees (there were over 200 brush fires, with 39 of them considered to be major). Many were wondering - what does this mean? And, more importantly, what can we DO?

In just one month, we will be celebrating the annual birthday of Israel's trees on Tu B'Shevat and what better time to reconnect with the meaning of this unique new year on the Jewish calendar, learn about forestation and celebrate our ongoing connection to our ancestral land - for what better antidote to the inane attempts to delegitimize our rights than by ensuring that we are sharing in and passing along the seeds of inspiration that have kept our connection alive through thousands of years of exile.

---
Celebrate Israel's great fruitful bounty with Israel Forever!
PLANT - Buy seeds
CELEBRATE - Conduct a seder
CONNECT - Plan a community gathering
LEARN MORE - Explore Plant Israel at Home Tu B'Shevat content and ideas
INSPIRE OTHERS - Download our Teacher's Guide
Facing the Forests: Israel after the Fires
By Jano Gleizer

In response to the horrific fires throughout Israel in November 2016, Midbaron Adventures is proud to announce a new tour opportunity exploring the planting, cultivation, protection and connection to the land.



Fighting the Shallow to Show Israel The Beautiful
By Yaniv Mezuman

Don't let yourselves be convinced by all the poisoners and evil slanderers of the country -- they are just drops in the bucket. Let's establish a movement that will collect positive testimonies about what happens in society, on the street, in the army, and everywhere else. Good and light always grow.



What you need to know about Chag Ha'Ilanot

Tu B'Shevat doesn't only speak to the ingathering of Jews to make their homes here in the Land of Israel. Yishuv HaAretz invites Jews from all over the world to join in the effort of working hand-in-hand with the land to make the desert bloom to ensure another generation of trees will prosper for the next generation.
---
Just as a tree needs water, pruning, and attention to extend its life, so, too, is our relationship with Israel – with proper care, we can perpetuate a love, respect, and pride in our homeland! With Tu B'Shevat 1 month way, get started planning your celebration NOW!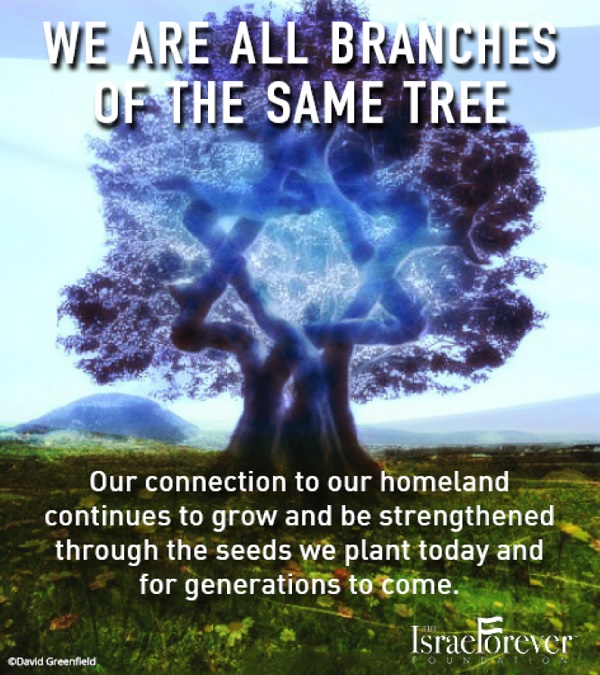 Host a Tu B'Shevat Seder this year!

A great experience for everyone with readings, recipes, activities, and inspiration galore!
Join us on Facebook and Twitter and don't miss out on the best of what to read about Israel!