Shalom friends,
Music touches us emotionally, where words alone can't. We spend much time in the synagogue praying, asking for forgiveness. The tunes and melodies the Jewish people have clung to for generations bring us comfort during these days of awe.

In Jewish tradition, Yom Kippur is the day on which God assesses the deeds of each person and decides their fate for the coming year. In Israel, there are different versions of how Jews spend their Yom Kippur. Here are some songs and melodies that we have chosen.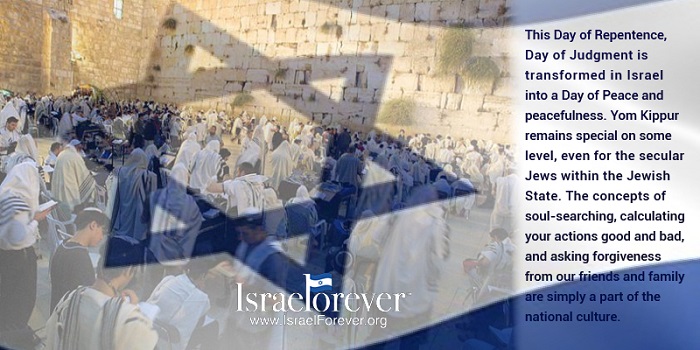 ISRAEL INSPIRATION: DAYS OF AWE PLAYLIST
By Sarah Zadok

Songs help me try harder and help me feel closer to what matters during these days between Rosh Hashanah and Yom Kippur, these Days of Awe.

ELEVATE OUR PLEAS: YA'ALEH TAHANENU



From the Slichot Poems. Asking for Forgiveness.

Even if the whole world is angry, When the darkness covers it all, That's the time to recall soon comes the dawn. It'll happen one day, just hold on. The world will change, won't fear what's right. Without hate and division, only harmony and love. One Day.

I will write poetry, and sing my appeal...and I will shed a tear...When I call, "Answer me, God of justice, Hear my prayer." May this beautiful rendition of an ancient prayer inspire you.


VERSIONS OF SILENCE: YOM KIPPUR IN ISRAEL
By Dr. Elana Yael Heideman

Music inherently depends on silence, in some form or another, to distinguish other periods of sound and allow dynamics, melodies, and rhythms to have greater impact.

On this Yom Kippur, experience this Holy Day in Israel through photos and personal stories that were shared with us from around the world.

---
As you are preparing for the holidays, may these tunes and sounds of silence from Israel Forever bring you comfort.

Wishing you a deeply meaningful Yom Kippur.
Join us on Facebook and Twitter and don't miss out on the best of what to read about Israel!