Shalom friends,

Tu B'Shevat is in less than 2 weeks. It's time to start planning your menu. Let Israel Forever bring Israel into your kitchen in no time. Try these fruity recipes now or save them for another time.

The Trees we honor for Tu B'Shevat bestow a bounty of incredible flavors of the Land of Israel. Grapes, Figs, Dates, Oranges, Pomegranate seeds, Olives, Honey, Almonds, Walnuts, Pecans, Bulgar, Quinoa, Apples…the list goes on! So Let's Get Cooking Israel with some of these awesome recipes of Seven Species and More!

B'Teavon and enjoy!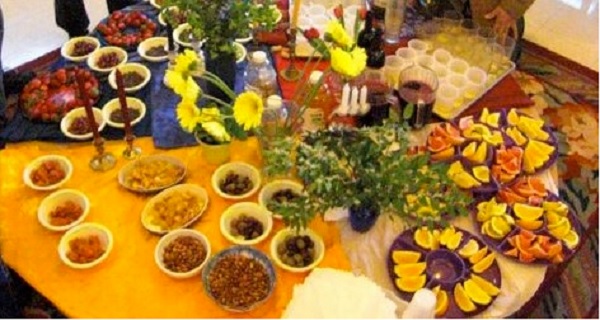 The combination of figs, grapes, pomegranates, and more bring a unique flavor combination that can't help but remind you of the beginning of spring.



The almond trees are blooming, as the Tu B'Shevat song goes. What could be more Israeli than putting the almonds into dates!



Stuffed Spring Chicken with Dried Fruits and Rosemary

Fruity and savory make this chicken dish perfect for a Tu B'shevat seder or any celebration.



Fruit is often associated with dessert. With this buckle, it goes even further. Use your favorite fruits or try something different this Tu B'Shevat.


---
To download and print your own copy of the Tu B'Shevat Seder, click HERE.

Have your own Israel-inspired recipes to share? Send recipes and photos to: cooking@israelforever.org
Join us on Facebook and Twitter and don't miss out on the best of what to read about Israel!