Nous Ne Devons Pas Oublier Les Victimes de la Guerre en RD Congo
52 rabbins anglais ont signé vendredi dernier une pétition publiée dans le journal "The Guardian," pour appeler les responsables des partis politiques anglais, en campagne électorale, à s'engager pour faire de la situation en RDC une priorité absolue lors de la prochaine législature.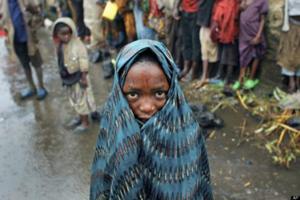 Le peuple de la République Démocratique du Congo (RDC) a subi pendant plus de 11 ans des violences, des crimes de guerre, la corruption, des crises humanitaires, pillages et viols sur une échelle qui défie l'entendement. En avril 2007, l'ONG « International Rescue Committee » a estimé le nombre de morts en RDC depuis 1998 à 5,4 millions. Ce chiffre terrible continue d'augmenter à un taux de 45.000 par mois. Les conséquences supplémentaires liées à la maladie et à la malnutrition ont entraîné une augmentation du nombre de morts à au moins 7 millions, sans compter les millions de réfugiés.
Ce que ces chiffres choquants ne peuvent pas transmettre, c'est l'ampleur des viols, de la torture et des mutilations toujours en cours. Au mois de février, 15 femmes ont été enlevées et violées par des agresseurs armés - cinq ont été sauvagement torturées, puis décapitées; trois ont survécu et ont été transportées à l'hôpital Panzi à Bukavu pour des soins médicaux d'urgence. Les sept autres sont toujours portées disparus, sans doute mortes. L'organisme des Droits de l'Homme « Genocide Watch » place la RDC au sommet de sa liste 2010 des pays confrontés à des massacres en cours.
Il n'existe toujours pas de fin en vue pour ces atrocités. En outre, la stabilité politique et la paix sont d'une importance capitale non seulement pour les citoyens congolais, mais pour tous ceux de la région des Grands Lacs d'Afrique. Pourtant, pour le reste du monde, le sort du peuple de la RDC demeure invisible.
Si l'on considère la souffrance et l'ampleur des atrocités commises en RD Congo, nous ne pouvons que nous rappeler nos propre 6 millions de victimes du génocide Nazi. Le "Ne rien entendre, ne rien voir et ne rien faire» ne remplit pas la promesse du «plus jamais ça! » ; rester les bras croisés alors que les êtres humains sont massacrés. Il ya déni de justice pour les victimes et cela questionne notre profonde engagement pour l'humanité. Comme rabbins nous ne pouvons pas ignorer l'appel de notre tradition: « Celui qui détruit une âme, est comparable à celui qui détruit le monde. Et quiconque sauve une vie, et comme celui qui sauve le monde. »
---
Help make a difference for future generations

Add your name below to join the list of worldwide supporters who condemn the Congolese genocide.