5 Ways to Show Israelis You Care, Purim Style
By Israel Forever
As Israelis continue to suffer from the wave of terror, it is times such as Purim, that we remember to find our joy and give back. Yes, Purim is time of celebration, costumes and for some drinking too much. But for all of us we can make it about the mitzvah of giving to others and increasing the joy.
The mitzvah of giving mishloach manot derives from the Book of Esther. It is meant to ensure that everyone has enough food for the Purim feast held later in the day, and to increase love and friendship among Jews as a counter to Haman's assertion that the Jewish people are characterized by strife and disunity.
So today, thousands of years later, we still want to unify as Jews all over the world, and show Israelis we care. For Purim, Israel Forever, would like to share with you, ways of giving a mishloach manot that can benefit the people of Israel, give back, and serve as a unique way of sharing our love, happiness and future together.
Check out our 5 favorite ways of giving Mishloach Manot for Purim. Not just about sweet treats, these baskets are full of strength, unity and charity.
1. PANTRY PACKERS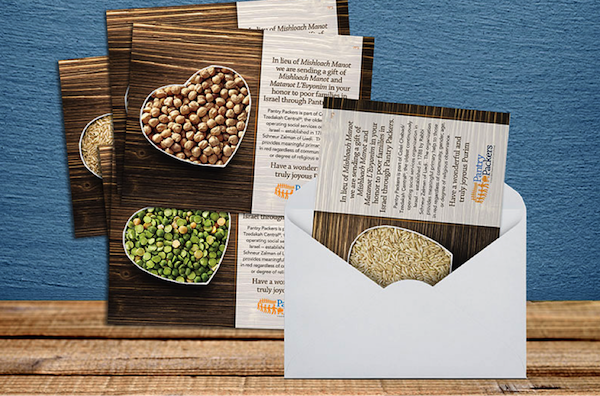 Organization: Pantry Packers® is the food distribution arm of Tzedakah Central/Colel Chabad the oldest continuously operating network of social services in Israel – established in 1788. Every month Pantry Packers® delivers crates containing all the necessary foods and household maintenance supplies to Israel's poorest families and senior citizens.

Every recipient is screened and selected on a non-discriminatory basis by the social services departments of local municipalities without regard to gender, ethnic background, or degree of religious observance. Pantry Packers® maintains a packing plant in Jerusalem where visitors and tourists may partner in its efforts by helping pack food staples which are then included in the Pantry Packers crates.

Mischloach Manot: Send a misloach manot to those stricken by poverty in Israel and honor your friends and family with a card delivered to their home informing them of this contribution. Honor your friends and colleagues with a card delivered straight to their home. You can buy a pack of six cards for $18 or buy even more (why not).



---
2. INTERNATIONAL YOUNG ISRAEL MOVEMENT
Organization: IYIM - is the Israel branch of the National Council of Young Israel - a 100 year old Orthodox Synagogue umbrella group that has always been proudly Zionistic. IYIM strives to assist those sectors of the Israeli population most in need, that does not make the news headlines. These include the deaf and hearing impaired, Agunot and divorce refusal victims (both male and female) and the youth of Sderot.

IYIM strives to enhance Jewish Peoplehood by aiming to strengthen connections between our members in Israel and their counterparts in Young Israel synagogues spread throughout North America.

Misloach Manot: Delivering misloach manot all over the country, give back to soldiers, families in need living in Sederot, or friends and family in Israel. Baskets start from $18 and will be delivered to soldiers on base. Go all out with the royal or deluxe package, including dried fruits and a bottle of wine.

---
3. WOMEN IN GREEN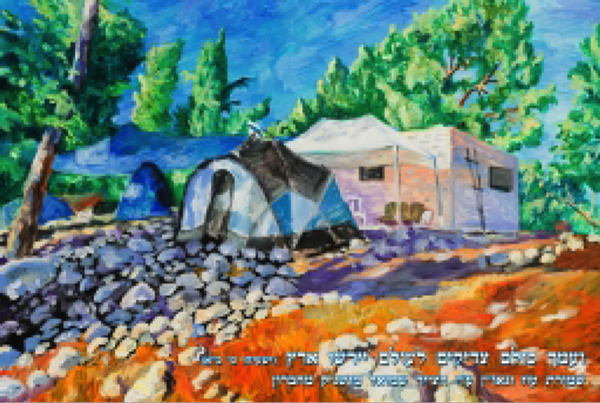 Organization: Women for Israel's Tomorrow, popularly known as Women in Green, founded in 1993 by Ruth and Michael Matar, is a grassroots movement of women and men, young and old, secular and religious, all bound together by a shared love and concern for the Land of Israel. "Eretz Yisrael Le'Am Yisrael" "The Land of Israel belongs to the People of Israel" is our motto.

Misloach Manot: Add a unique touch to your Mishloach Manot by purchasing Purim cards and your donations will help Oz VeGaon continue to blossom and flourish in the heart of Israel while honoring the memories of its namesakes, Gil-ad, Eyal, and Naftali, hy"d. Oz VeGaon is a nature preserve in the heart of Gush Etzion, set up by Women in Green and residents of Judea as a Zionist response to the kidnapping and murder of Gil-ad, Eyal and Naftali. Oz VeGaon has become an active educational tourist center with thousands of youths and adults streaming in from all over Israel and abroad to work the land, study and celebrate happy events. The cards range from a packages of 10 for $36 to a pack of 50 for $108.

---
4. TORAT REVA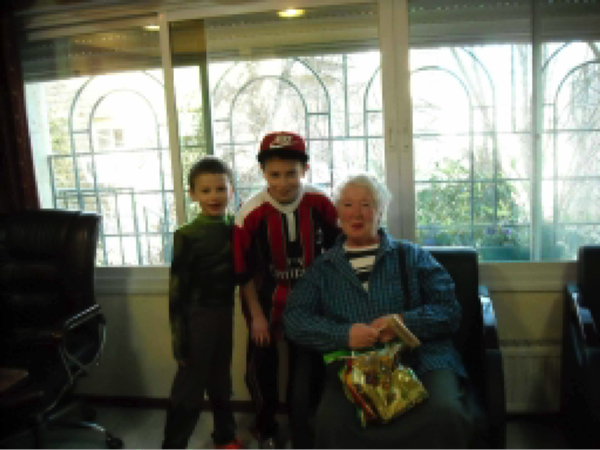 Organization: Torat Reva Yerushalayim provides Torah study groups for the elderly residents of southern Jerusalem in nursing homes, senior centers and assisted living communities. Along with their classes, they publish a weekly Dvar Torah available on the web or via email called Parsha Points, have special events in the Jerusalem area and offer a unique Bat-Mitzvah Program for women of all ages.

Misloach Manot: Torat Reva Yerushalayim will hand deliver packages to the neglected elderly of Jerusalem, for many the only gifts they will receive. The packages will include healthy snacks, gifts and Purim treats. The goal: to prepare at least 130 packages! A donation of $18 covers one package, $180 covers packages for an entire floor of a nursing home.

According to the Rambam: "gifts for the poor deserve more attention than the festive meal & gifts for friends because there is no greater, richer happiness than bringing joy to the hearts of needy people, orphans, widows and proselytes."

---
5. LEKET ISRAEL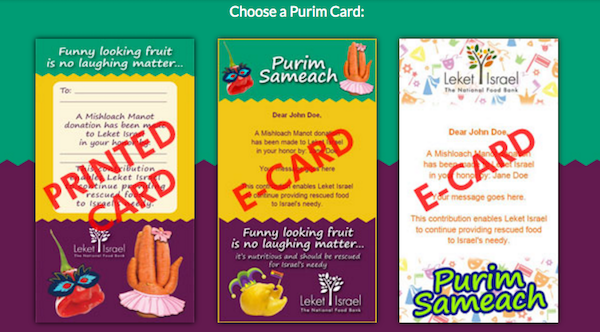 Organization: Founded in 2003, Leket Israel serves as the country's largest food bank and food rescue network actively working to alleviate the problem of nutritional insecurity among Israel's diverse population. Statistics reveal that a quarter of Israel's 7.7 million citizens (1.9 million people) are living in poverty; among them are some 850,000 hungry children. Yet, at the same time, literally hundreds of thousands of tons of perfectly good, nutritious food are needlessly destroyed each year.

As an umbrella organization, Leket Israel also work's to assist at-risk population groups and the NPOs who serve them through nutrition education, capacity building, and food safety projects designed to improve professional operating standards. Leket Israel serves all population groups at-risk in Israel regardless of gender, ethnic background, or religion.

Misloach Manot: This Purim, Help Leket Israel salvage food for Israel's poor and send Purim greetings. With the Purim joy clearly marked in what they call their, "funny looking fruit," they want you to know that besides a good laugh you can rescue these nutritious items and give them back to those that need it here in Israel. From a simple e-card to a printed version, for just $1 you can save 10 pounds of food. Now it is just up to you how much you want to give.

---
More Ways to Show Israelis You Care
---
SHOW ISRAELIS YOU CARE