STAND UP FOR JEWISH RIGHTS
STAND AGAINST HATRED FOR JEWISH PEOPLEHOOD
STAND WITH BALFOUR


With the Balfour Declaration, the Jewish people received public validation of our ancient hope for our return to Tzion and a state of our own.



Anti-Israel activism is on the rise. We must combat it by banding together and taking action to ensure that our history and our rights are protected from the lies, propaganda and distortions perpetuated by those who seek to destroy us.







Join us in our effort to protect the legacy and remind the world that Israel was established with the full backing and support of the international community.



On November 2, 1917, British Foreign Secretary Arthur Balfour sent a letter to Lord Rothschild - head of the Zionist Federation - expressing British support of a Jewish State in Palestine.

While this represented the first political recognition of Jewish nationalism by a world power, it was a reflection of the philosophical, practical, and spiritual meaning behind the historical link of the Jewish nation to its ancient homeland.


---




We aim to collect 1 million signatures by the 100th anniversary of the Balfour Declaration on November 2, 2017 to be presented to world bodies, organizations, and heads of state. Together, we can show the world that the international recognition of the Jewish connection to Israel perpetuates all over the world today.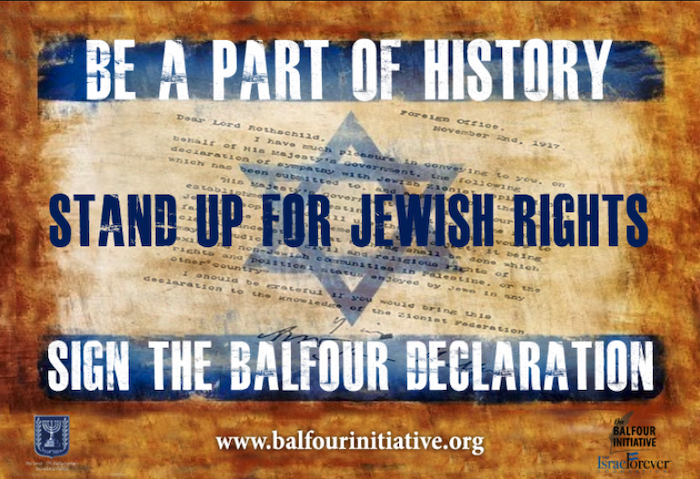 ---



GET INVOLVED, TAKE ACTION, AND HELP MAKE A DIFFERENCE!


10 communities = 100,000 signatures each. 100 communities = 10,000 signatures each!
Bring the Balfour Initiative to your community, school, congregation or just your family and friends.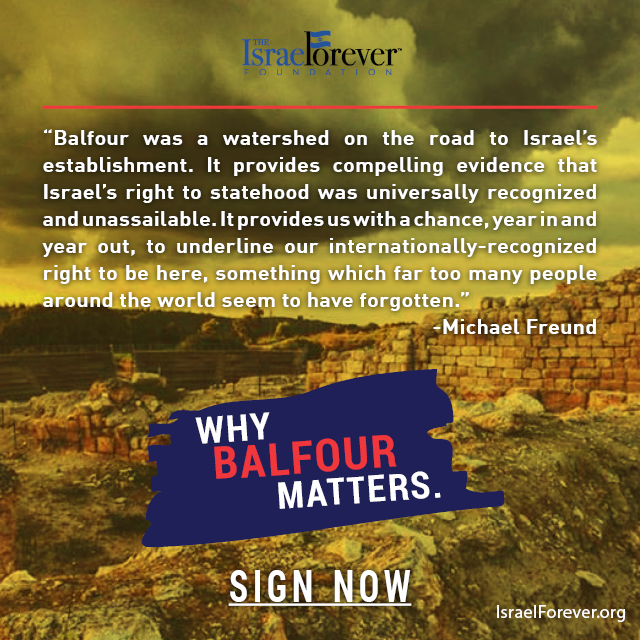 Contact us for programming ideas and free resources for you to use in making this a meaningful and successful campaign all over the world.
---



BALFOUR DAY: A CALL FOR CELEBRATION!



A celebration of The Balfour Declaration invites a deeper understanding of the long history of our struggle to create a place where Jews could live free in our ancient homeland.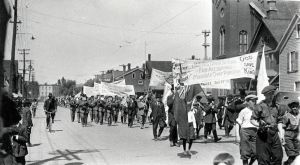 Balfour Day is something we should be celebrating, and utilizing to our national advantage. It is a day ripe with meaning, with positive Zionist fulfillment. It was a watershed on the road to Israel's establishment, and it provides compelling evidence that Israel's right to statehood was universally recognized and unassailable.

It provides us with a chance, year in and year out, to underline our internationally-recognized right to be here, something which far too many people around the world seem to have forgotten. Michael Freund



By initiating an international celebration of Balfour Day, we once again proclaim Israel isn't just any old country, Israel is OUR country, one that we built from barren desert to a thriving western economy, one that we will continue building, and one that most of all is a country that is loved and supported!

From November 2nd through November 29 every year, let us honor the important legacy of the Balfour Declaration and never forget the steps that led to the creation of our one and only Jewish State.

---



WHAT CAN YOU DO?
LEARN or TEACH about the importance of the Balfour Declaration and how it was celebrated in communities worldwide before the State of Israel was born
PARTY like it's 1917! Hold a vintage Balfour celebration full of old photos, copies of the Balfour Declaration, and watch old videos of pre-State Israel. Not only will you be teaching about Balfour, you'll be exploring Jewish life and identity to a world who could only DREAM of a Jewish State, teaching today's generation how much we often take for granted.
WATCH My Herzl and learn about the legacy of the father of modern Zionism, "Architect of Balfour." Discussion Guide available!
DISCUSS and read articles with friends, family or your community, and explore the significance of this historical event to modern Israel, modern Zionism, and our lives today.

There are so many great ways that you can create a Balfour Day celebration for your community or group, or even just your family and friends! 

CONTACT US for original FREE resources to help bring your Balfour celebrations and learning experiences to life!
All over the World, Let Us Celebrate Balfour Day with community gatherings, teaching Balfour, and more!



There are so many great ways that you can create a Balfour Day celebration for your community or group, or even just your family and friends - Click HERE to learn more!



---



LEARN MORE ABOUT THE BALFOUR DECLARATION







The Balfour Declaration paved the way for the United Nations vote on November 29, 1947, when the world echoed Lord Balfour's sentiments of our ancestral right to a sovereign state on our ancient homeland.



---



JOIN THE CONVERSATION!!! Tell us why you believe the legacy of Balfour is important!




Comment on Facebook