Israel: Always in my Heart and Art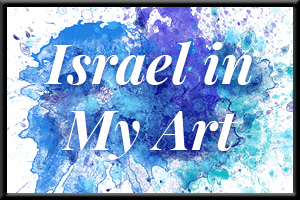 I like to consider myself a fan of art. I don't know much when it comes to techniques or anything, but I know what I like. What I don't always know is pieces and names. Sure, there's the Mona Lisa, Starry Night, you know- the classics. But when I was working with the student board of Aish Bloomington, of which I am a member, I was at a loss for prominent Israeli artists and pieces. We were putting on an Israel event to teach people about Israel and we had no idea where to begin for art.
That's when I looked down, and saw on my right wrist, the wristband which has been there for about 18 months. That wristband is one from the Israel Forever Foundation, an organization for which I interned in the summer of 2015 and helped reinvent the Munich Memory Project. In that moment, I remembered the program 'Israel in my Art', a program which, while I did not personally put work into it, I knew existed. That's when it hit me. I told the rest of the board on a Monday night in December that I could contact IFF. After all, as a former intern, a person who reimagined one of their programs, I knew that all I needed was to send an email and I would have ten times as many resources for the event I was helping plan.
Don't get me wrong, I know some Israeli artists. Almost every college student who has been to Israel knows Avraham from Tzfat. But I needed more.
When I thought to use Israel in my Art, I was thinking just use stuff from the website and then call it a day. Instead, after consulting with both IFF and the Aish Bloomington student board, we were able to get and use the expertise from IFF.
We don't even realize what we're missing; we don't know what we don't know. We see Israel through a tourist's perspective and we hear very divided opinions on the political atmosphere. Oftentimes we decide we've had fun, yet think there's no way for us to connect with Israel outside of politics and advocacy.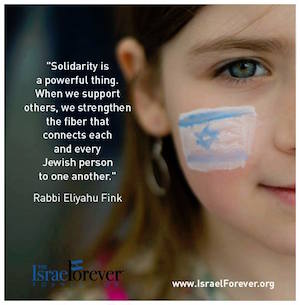 In another blog I wrote, I talked about the importance of Israel engagement and here I am, two years later and again seeing the value of pure Israel engagement and outreach. It's ok to ask for help, especially when you know you may need it. Not only did IFF help us with our event, they added to the event in ways none of us on board could have imagined. Knowing that I had the option to even contact my former bosses was a good feeling, but the feeling I had when being at the event and looking down at my IFF wristband, that was magical.
Looking at the gallery they had helped to put together for us, seeing the IFF name and logo- that made the real difference in our event. More than just having the expertise of IFF, we had the opportunity to engage with people in a way that was fun and educational. Not only did we have the Israel in my Art program, we had a group of professionals helping do Israel engagement on a college campus, which is where that's needed most.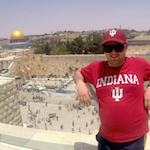 David Solkowitz, a former intern for Israel Forever, is currently a Jewish Studies and Journalism major at Indiana University. He is a dedicated and passionate student when it comes to Israel. In his free time, David enjoys writing about his experiences, travels and connection to the Jewish homeland.


---
Recommended for You:
---
ISRAEL IS IN YOUR HEART, NOW CELEBRATE HER IN YOUR ART