Life with Rockets #IsraelUnderFire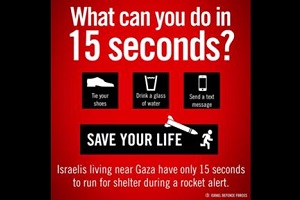 Air raid in Jerusalem. I am fine. But nothing focuses the mind on the gravity of the situation more effectively than knowing the sense of vulnerability that Israelis feel all the time.  Jeff Salkin 

Like everyone else, sitting on pins and needles, unable to focus on anything other than the news, and waiting for the inevitable siren. The kids are already in bed in the memad (safe room), removing that level of stress. Yet it's embarrassing to think of what we're dealing with, when the residents of the Darom (South) are living like this all day and all night. They are setting a new standard for bravery under impossibly stressful conditions. Yishai Hughes

Feeling so helpless, but constantly thinking of everyone in their shelters concerned about where the next rocket might fall. Hats off to the Iron Dome. What a remarkable success rate Where would we be without this wonderful defence system.  Joy Wolfe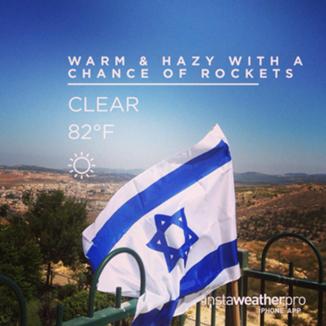 Copyright © Laura Ben David
I have this constant feeling of being "choked up." Holding back tears. Trying to be strong, not to let it "get to me." I try to hide my fear from my kids, home because of the security situation. I work in spurts but can't avoid the "aid" of my Facebook feed which somehow makes us all feel like we are together in all of this even though we are scattered throughout the land and around the world.

The quiet outside is an eerie calm, and I keep running through my mind what I will do if (when?) the siren sounds again. We have much to learn from those who live in the South - those who have lived with this every day for 12 years and who remain strong. For now, I will go play Rummycube with my boys while the baby sleeps soundly, as prayers for peace and security for all of #Israel run through my mind. Elana Heideman



Things that sound like the siren:


-ambulance
-really fast motorcycle
-3 year-old pretending to be an airplane
-children playing outside

Things that don't sound like a siren:
-

It's been a long day...  Abigail Ellis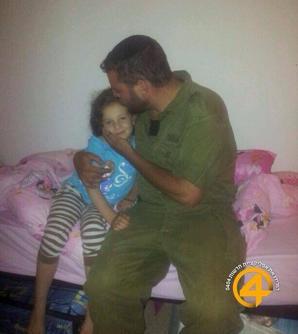 A father giving his daughter a kiss and promising her "We're going to protect/watch over the people of Israel and I will return healthy and whole very soon" - he's been called up as part of the 40,000 reservists. May God bless Yossi and watch over him and please, please God, help him keep his promise to his daughter. Let him return healthy and whole and soon.


Israel and lovers of Israel - now is the time for strength, fierceness, and eventually, victory. We cannot succumb to fear or hysteria - that is just what the terrorists want. G-d is with us in this hour of trial.  Yishai Fleisher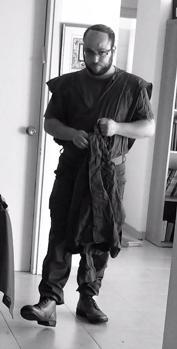 Reality check...

This is a picture I took a couple hours ago of my husband Gershon. Gershon was born and raised in Jerusalem. He served in the army from 2003-2006. Gershon's unit was based in Ramallah and had a very (to put it lightly) intense service through the 2nd intifada. Needless to say, Gershon lost many friends (along with most his innocence of youth). Gershon continued to serve as a reserve, with yearly 1-2 months a year spent in the army.

When the 2nd Lebanon war broke out, Gershon was called up and spent a month inside enemy lines in Lebanon. A year and a half ago Gershon' reality became mine as well when he was called up to serve in מבצע עמוד ענן Operation Pillar of Defense. For two weeks I became a single mom of twin one year olds without an idea of when Gershon would be coming home. And here we go again...

This is reality. My awesome husband and Yehuda and Asafs amazing abba dropped everything, packed a bag, gave big hugs to the boys and left.

I don't know where he's going or when he will be coming home, but I do know this- this reality, while scary and still uncomfortably unfamiliar to this Los Angeles girl, is purely an honor and a privilege.

So here's a request: pray for the safeness in our reality, pray for the safe return home of ALL the soldiers out there, pray for the safety of the holy citizens of this country from north till south. And most importantly, please take a second to have immense pride in our holy reality.

מי כעמך ישראל ה׳ ישמור צאתם ובואם מעתה ועד עולם  
Tali Katz Weiss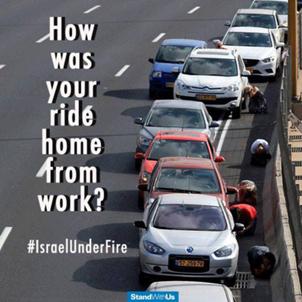 This is real, people. Anyone who doesn't see Hamas' rocket attacks as indiscriminate attacks against civilians is fooling themselves, or willfully ignoring the facts. Joel Haber


This is an asymmetrical conflict. We do not seek their destruction; they teach a very broad segment of their society to seek our destruction. And that must end. There is too much suffering. There is too much pain. We will not allow extremists from wherever they come to ignite the region and shed more blood. Bibi Netanyahu

On many of Israel's news channels, a question being frequently asked by mothers is how they are supposed to protect their young children from shrapnel when walking with them down the street.

Israel is the only country in the world where this situation is perceived as normal, and any steps taken to rectify this absurd situation are condemned by the UN, the EU and others.  

No other country lives under such a threat, and no country would accept such a threat. Israel will not tolerate the firing of rockets on our cities and towns, our civilians of all races, religions and ethnicities.  Danny Ayalon 



The State of Israel won't rely on luck; we are prepared and ready for any scenario in order to protect our civilians. We are a united front in the face of this danger; we will not consent to being victims. Shimon Peres



---
Recommended for you:
---
SPEAK OUT. CALL OUT. RAISE YOUR FLAG.