Israeli White Bean Soup
Marak Shuit Bean Soup - מרק שועעית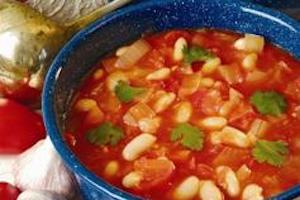 Ingredients:

6 cups broth or water
2-3 cups white beans (black eyed work great too!) 
1 tablespoon olive oil
1 onion, peeled and chopped
3 stalks celery, diced
3 carrots, diced
1 potato, small cubes
6 oz. tomato puree
1 can crushed tomatoes
3-4 cloves garlic, peeled and chopped or minced, as preferred
1 tsp cumin
1 tsp. thyme, dried or fresh
1 T paprika (sweet or spicy, as preferred)
2 bay leaves 
1tsp. brown sugar
1/2 teaspoon salt
1/4 teaspoon pepper
3 tablespoons chopped fresh parsley (or cilantro if preferred)
Pita bread
Preparation:

If using dried beans:
1) Let beans soak overnight in 6-8 cups water.
2) Drain and rinse well.
3) To soften, in a large pot, cook beans on medium-low heat in 6 cups of water for 2-3 hrs.

If using canned beans:
Drain liquid and add to sautéed vegetables.

4) In a medium skillet, heat oil over medium-high heat.
5) Add onion and sauté until transparent but not brown.
6) Add celery, carrot and potato and 1/2 cup water.
7) Place sauteed vegetables in a good sized pot. 
8) Add beans, crushed tomato, tomato puree, and garlic.
9) Add broth/water, garlic, cumin, thyme, paprika, bay leaves, sugar, salt, pepper, and parsley.
10) Bring soup to a boil over high heat, stirring occasionally.
11) Reduce heat, cover kettle, and simmer for 1 hour or longer if beans need it. 
12) Serve hot with pita bread (or pita chips!)

Optional: 
You can add chunks of beef, shredded chicken, or any additional vegetable you want to this delicious taste of Israel!

B'teavon and Chag Sameach!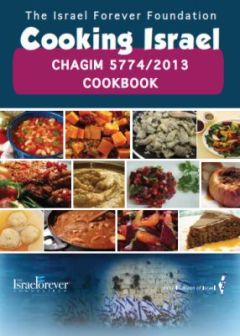 Comment on Facebook