Pomegranate Roasted Chicken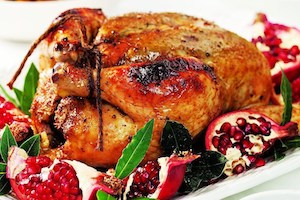 Ingredients:

1/4 cup olive oil
1 Tablespoon minced garlic
1 chicken, quartered
1 pomegranate, halved
1/4 cup dry white wine
2 Tbsp apple cider vinegar 
1 tsp cumin
1 tsp. cardamom
1/2 tsp. nutmeg
1 Tbsp cinnamon
2 Tbsp sugar
Salt and pepper to taste


Preparation:

1) Preheat oven to 375 degrees F.
2) Place chicken in a shallow baking dish. 
3) In a cup, mix olive oil and garlic and smother over the chicken. 
4) Remove 1 tablespoon seeds from pomegranates.
5) Set aside for garnish. 
6) Squeeze juice from remaining pomegranate through a sieve into a small bowl. 
7) In a small saucepan, mix pomegranate juice, wine, lemon juice, and cinnamon sugar.
8) Bring to a boil over high heat.
9) Reduce heat to low and cook 5 minutes to thicken. 
10) Season sauce with salt and pepper to taste. 
11) Drizzle a bit of the sauce over the chicken and put in preheated oven to bake for 45 minutes, basting several times with pan juices.

Feel free to add a bit more of the sauce throughout the cooking - it will be wonderful!

12) When the skin is browned and juices run clear when a thigh is pierced at thickest part with a fork, remove chicken from oven and cover with aluminum foil to rest for 10-15 minutes.
13) Combine sauce from pan and uncooked sauce.
14) Transfer roasted chicken to a serving platter and pierce each piece several times.
15) Pour sauce over chicken.
16) Garnish with pomegranate seeds and serve.

B'teavon and Chag Sameach!

 
---
Lunchtime recipes with an Israeli twist:
---
HOW DO YOU BRING ISRAEL INTO YOUR KITCHEN?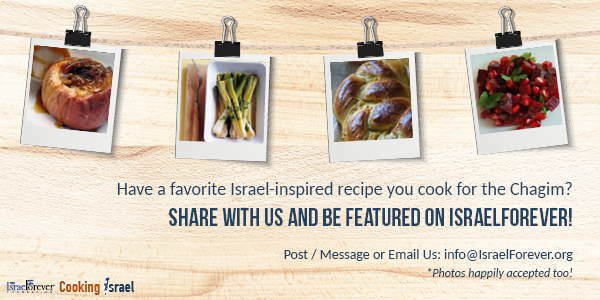 Comment on Facebook