Born to be a Sabra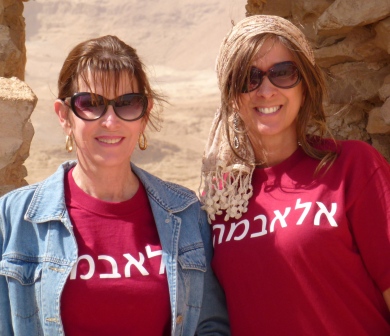 Sabra Joines, a Christian from Fairhope, Alabama, connected with The Birmingham Jewish Federation last year when she was seeking input for a company she was developing -- Sabra Style. This new company was Sabra's dream to start a business that would help Israel by solely merchandising products made in Israel.
Sabra is deeply committed to Israel. Coincidentally, the word "sabra" in Hebrew is used to refer to a native born Israeli. However, growing up, Sabra had no idea what her name meant. Her mother had heard it as a teen and always liked it. It wasn't until Sabra realized and pursued her passion for Israel as an adult did she discover its meaning. That discovery further reinforced her passion and beliefs.
Sabra had learned about The BJF's "Buy Buy Israel" initiative which, by encouraging people to buy Israeli-made goods in the Birmingham area, counteracts those who want to hurt Israel economically. She reached out to The BJF's Director of Overseas Programs Joyce Spielberger and Projects Assistant Samantha Dubrinsky to talk about her idea and ways she and The BJF could work together.
A year has passed since that meeting and Sabra Style is up and taking off! Sabra travels the Southeast setting up tents with Israeli-made products to sell at Israel advocacy events and is also currently developing a website. Through connections that The BJF helped her make, Sabra has been featured both in Southern Jewish Life magazine and on the website of the American-Israel Chamber of Commerce Southeast Region, of which she is now a member. Sabra also checks in regularly with Joyce and Samantha to let them know how her business is doing and where she will be traveling next.

Sabra made her first trip to Israel 1 year ago when she went for both business and pleasure. Before she left The BJF made sure she had an Alabama in Hebrew t-shirt. NOW SHE IS BACK IN ISRAEL AGAIN! We look forward to sharing with you more Sabra Style!
Read the full article here.