GET INVOLVED WITH THE BALFOUR INITIATIVE
---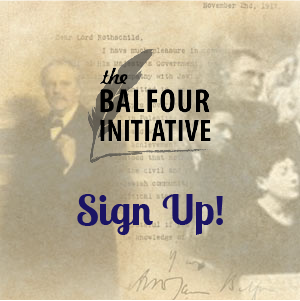 Anti-Israel activism is on the rise. We must combat it by banding together and taking action to ensure that our history and our rights are protected from the lies, propaganda and distortions perpetuated by those who seek to destroy us.
Bring the Balfour Initiative to your community, school, congregation or just your family and friends. and join us in our effort to protect the legacy and remind the world that Israel was established with the full backing and support of the international community.
Fill out the form below for programming ideas and free resources for you to use in making this a meaningful and successful campaign all over the world.
To learn more about The Balfour Initiative, click HERE.