Eliav's Soldier
By Romi Sussman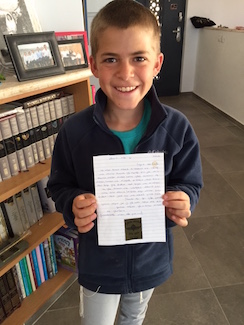 Before Purim, my ten year old told me that they had a project to do at school. The school put together care packages to deliver to soldiers on their bases before Purim, and his class' job was to write notes. Eliav wrote his note to his soldier, and someone recommended that they put their full names and their emails on the notes in case the soldiers wanted to get in touch.
And that was the end of the story.
I thought it was a very sweet activity. And as kids do around the world, our children were saying thank you to soldiers for all that they do.
Eliav didn't hear from the soldier, but he didn't really expect to.
And then, right before Shabbat, our neighbor's son showed up at the door with his wife. "We have a message for Eliav," he said, and he hand delivered a note from a soldier.
"What??" we all said in unison. "What's going on?
Turns out that Eliav happened to get a soldier whose family lives across the street in Efrat (the next town over) and that the soldier is friends with our neighbor, Zvi. He was hanging out with Zvi recently and said, "You know I got this adorable note from someone in Neve Daniel. Do you happen to know Eliav Sussman?"
Zvi proceeded to laugh, and to explain that our families have been friends since his family was in Potomac for three years…and that we have known each other for 19 years.
The soldier wrote the sweetest note to Eliav, explaining how the army is often hard and it's difficult to keep your focus on what's important. But that with Eliav's note it reminded him that he's working hard to protect kids like Eliav and for our nation.
Kids around the world send packages and notes to soldiers. Sometimes the soldiers write back and sometimes the kids never hear from them.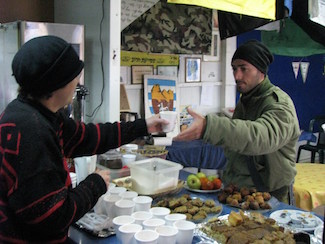 When we deliver food to the Pinat Chama (the Warm Corner for soldiers) near our home, I see the notes that the American kids send to the soldiers. The notes are so sweet, but there is a certain feeling of disconnect, of thanking the soldiers for what they do there.
It's so indicative of the lives here in Israel, that Eliav should get a hand-delivered note. There are simply no degrees of separation, and when a little fifth grader writes a note to that nameless, faceless big soldier, it just might be that the soldier lives nearby and is friends with your closest friends.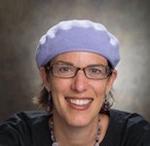 Romi Sussman heads the content writing department for a technology and digital consulting company. Originally from Los Angeles, California, she made Aliyah from Potomac, MD and is raising six boys in the hills of Gush Etzion. She frequently blogs about life in Israel and her experiences over the last decade.


---
Recommended for you:
---
LETTERS OF FRIENDSHIP, STRENGTH & SOLIDARITY