Make Israel Personal #IsraelUnderFire Social Media Mingle
Join us for an evening of discussion and brainstorming on tactics, concepts, topics and tools for faciliation of personal engagement beyond the political or volatile debates.  Learn more about the program HERE

Tuesday, July 29, 2014
7:00 P.M.-9:00 P.M. Jerusalem Time (12pm EST)
To make your RSVP official, fill in your name below and click Contribute Today.
A $0 contribution confirms your participation, but an 18NIS ($5) optional donation will help our continued efforts to celebrate and strengthen the personal connection to Israel!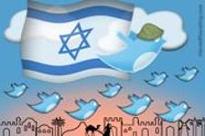 For questions relating to this event, email elanayael@israelforever.org



If you aren't already a VCI, make sure to check the box below to join the world's only global Jewish community for Israel engagement!