THE BALFOUR INITIATIVE
---
The Balfour Declaration affirmed the right for the return of Jewish sovereignty in the ancient Homeland of Israel, the outcome of years of struggle by Jewish and Zionist leaders to return the Jewish People to their historic and indigenous land.
The Balfour Initiative aims to clarify and education about the unassailable Jewish rights to the Jewish homeland with the emphasis on legal rights and the irrevocable status of international recognition of these rights.
Balfour's declaration is a symbol of Jewish legal rights to the Jewish homeland. This initiative highlights the history that led to this monumental international recognition, the events leading up to and following the declaration, and emphasize the valuable legacy of commitment, leadership, and activism in our fight against the widespread delegitimization of the Jewish nation-state today.

THE BALFOUR DECLARATION WAS ISSUED ON NOVEMBER 2, 1917.
WHY DOES IT MATTER TODAY?
The Balfour Declaration was a public statement issued by the United Kingdom's Foreign Secretary Arthur Balfour during World War I, announcing support for the establishment of a "national home for the Jewish people" in Palestine (which at the time was part of the Ottoman empire).
What we now call the Balfour Declaration is part of a letter dated 2 November 1917 which Balfour sent to Lord Walter Rothschild, a leader of the British Jewish community. He requested Lord Rothschild transmit its message to the Zionist Federation of Great Britain and Ireland. The text of the declaration was published in the press on 9 November 1917 and was heard around the world: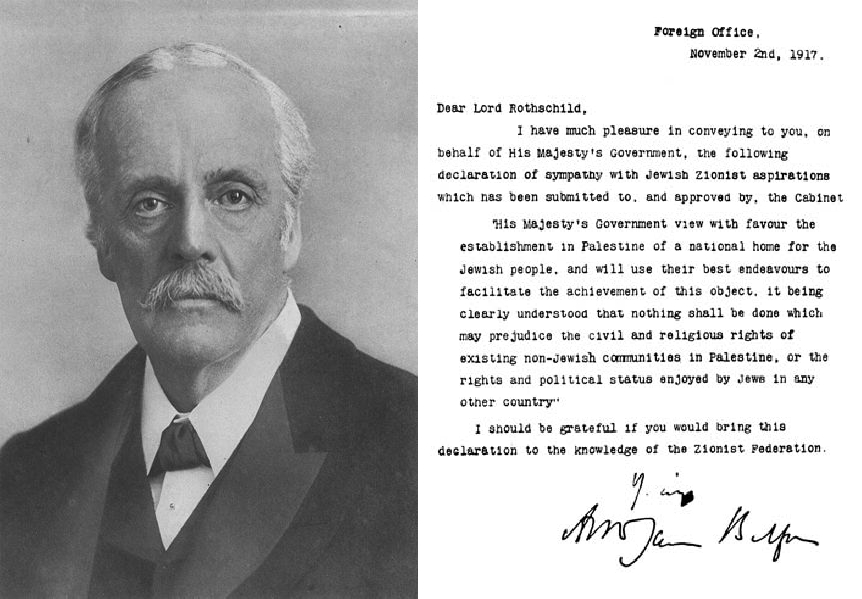 BALFOUR MATTERS TODAY WHEN THE LEGALITY OF THE STATE OF ISRAEL IS CALLED INTO QUESTION
WHAT YOU NEED TO KNOW:
The Balfour declaration was the basis for the League of Nations decision regarding the establishment of a national home for the Jewish people in our homeland. To date, the League of Nations decision is the only valid document in what is called "International Law" regarding the right of any people to the land of Israel.
The Balfour Declaration did not grant the Jewish people rights to Israel, it only reaffirmed what was internationally understood: The Jewish people have the right to establish a national homeland in the land of our ancestors. This is not a right granted by man but by natural law that says that any indigenous people have the right to self-determination in their ancestral homeland. READ MORE
---
STAND UP FOR JEWISH RIGHTS