Search Events
Seeds of Song Community Erev Shira
If you love to sing, come join us!
If you love to listen to music, come join us!
If you want to be inspired, come join us!
Tuesday, October 19, 2014
7:00 - 8:30 PM
at The Jewish Community Center of Greater Washington in Rockville, MD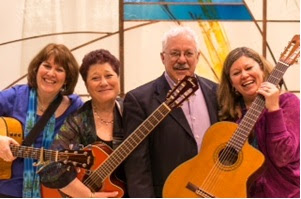 Featuring Area Musicians & Song Leaders Liz Kruger, Jill Moskowitz, Teddy Klaus, Sally Heckelman with words projected in Hebrew and transliteration on a large screen.
Shira Betzibur (singing in public) was a favorite activity of the chalutzim (pioneers) of Israel, who would pass out song sheets, take out a lone guitar or accordion, and sing around the campfire. In recent years, Shira Betzibur has regained momentum, both in Israel and America. Seeds of Song Community Erev Shira is growing in popularity and is fast becoming a cultural staple in the Washington Metropolitan Jewish Community. With each evening program, we incorporate familiar tunes, review songs introduced at the previous session, and continue to build a repertoire of new songs together. Words are projected on a large screen and are easy to follow. People are invited to come and sing, or just come to enjoy the music. Over 100 members of the community have been attending each Erev Shira for the past four years. We are growing in size, sound, and popularity! This is a wonderful way to begin the new week ahead, and the new year ahead too!

We are pleased to find a home this year at the JCCGW.

Cost: $10 for adults. No charge for youth 18 & under.
Questions? Contact Lisa Arber, Seeds of Song Coordinator arberld@aol.com
Mark your calendars for future Seeds of Song programs at the JCCGW on
March 8, 2015 and May 17, 2015
---