Iron Dome: Saving Lives and Building Futures
The current war in Israel has Jews in Israel and around the world thanking Israel's newest hero - the Iron Dome missile defense system.

The Israel Forever Foundation and Lema'an Achai have joined together to foster an initiative that recognizes the amazing technology developed, with the help of G-d, to protect Israel's citizens while continuing the work after the current hostilities end.
'Every war has its unique features and challenges', says Dr. Elana Heideman, Director of Israel Forever Foundation, 'and the Iron Dome certainly takes center stage this time - and rightfully so. However, the next challenge will be the 'morning after' - the period when Israelis return to their new reality and face their next challenge - coping with trauma.

We are proud to be a part of an effort to ignite the appreciation of Iron Dome in a way that an also make a difference in the lives of Israelis who have been forced to live with fear, anxiety, and heartache from the ongoing threat of terror."
To this end, Israel Forever and Lemaan Achai are hosting a virtual dinner to thank the Iron Dome, its engineers, and the IDF soldiers who operate it.

The Virtual Dinner will take place as an online event, whose date will be announced after the Protective Edge War has finally come to an end, and will include presentations from significant personalities involved in the development and implementation of the Iron Dome system.

All proceeds will help establish a fleet of Mobile Rehabilitation Units that will provide critical psychological, emotional and material assistance to Israelis in the many communities targeted by missile fire over these last weeks.
Continuing the efforts of Iron Dome and caring for the day-to-day needs of Israelis whose lives were protected by Iron Dome, is the next 'battle' to be won. Hamas rockets now have greater range and reach more cities in Israel than ever before.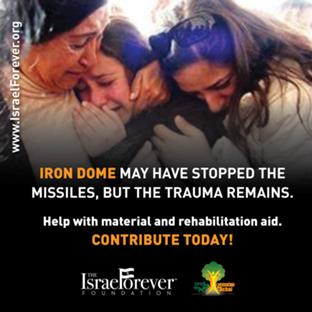 While air raid sirens are regularly heard in Sderot, Ashkelon, Ashdod, Beer Sheva, and the communities along the Gaza border, the citizens of Beit Shemesh, Tel Aviv, Ra'anana, Rishon L'Tzion, Jerusalem, Modi'in and dozens more have fallen prey to the trauma of the attack against our nation.

Our aim is to reach the people where they live, to provide innovative and creative trauma recovery assistance for those who might otherwise not consider themselves "eligible" or in need of rehabilitation.
According to Rabbi Avrohom Leventhal, director of Lema'an Achai, "Lema'an Achai's expertise in rehabilitation and its vast experience from the Disengagement, Second Lebanon War and Operation Cast Lead, along with the extensive reach of The Israel Forever Foundation, a rapidly expanding non-profit organization which has become a leading source of Israel pride and information for hundreds of thousands of people a month, we believe we can truly make a difference - in honor of the Iron Dome, in honor of Jewish life, and in honor of our dream to live free in our land."
Join us in this wonderful opportunity to be a part of Israel's efforts to live in peace and provide a future for her children and the Jewish people.


---