Nu Campaign and Tribefest
Here we are, in the lovely Las Vegas for the 2nd annual Tribefest!
After a fabulous time at the JFNA General Assembly back in November, we knew that Tribefest would be a great showing of young leadership talent from throughout the world and sure to be a meaningful experience for everyone.
In anticipation of the festivities geared towards 22-45 year olds, Israel Forever has partnered to feature and sell a selection of T-shirts from the Israeli company Nu Campaign, founded by David Kramer, an Oleh to Jerusalem from South Africa. We first met David during the final couple hours at the GA. We had an instant connection as NU and IFF share the same mission to raise awareness and funding for Israeli and global causes.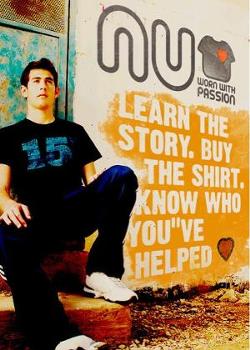 Every NU T-shirt design includes a story written on the inside of the shirt, telling its history and connection to the Jewish People and The State of Israel. Our mutual focus on apolitical initiatives helps bring attention to the incredible work being done throughout Israel that not only benefits Israeli society and culture, but also demonstrates Israel's incredible contributions around the world.
Nu Campaign offers a unique twist on what it means to support and we are honored to represent them at Tribefest. So make sure to come on over and find our booth in the main exhibit hall to learn about Israel Forever and our flagship initiative Virtual Citizens of Israel™ to declare your love and commitment to Israel and her people and to take home your favorite NU design!