U-Boutique.Com: An Israeli Jewelry Designer
Rebeka, an Israeli jewelry designer, was born in Tel Aviv and is married with two sons. Rebeka's mother loved to interweave jewelry made from beads that she would purchase in different stores around the city. When Rebeka was 17 years old, her mother became bedridden for a long period as a result of a difficult surgical procedure.
Taking her mother's responsibilities upon herself, Rebeka would purchase the necessary raw materials to allow her mother to continue her work in weaving beads for jewelry. The activity of producing beaded jewelry helped her mother in the recovery process during that difficult period.
Upon completion of her military service Rebeka spent a number of years working in the field of computers. During that time she was driven by a need to create and design jewelry based on the talent she had developed and the experience she had gained in working with her mother. Rebeka soon created her own style based on colors.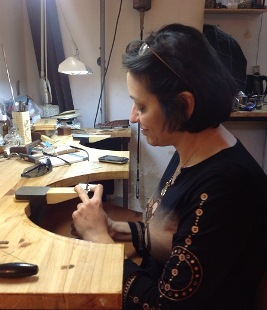 "I couldn't help but be influenced by my mother's creativity and the experience I gained in choosing the raw materials she needed during her recovery period from surgery. I know for certain that those influences helped me to develop my own sense of design and my love in creating new jewelry pieces. My dream of creating new jewelry came to fruition."
Rebeka's initial efforts at jewelry design started out as a hobby but following a period of study, that hobby grew into a full time occupation.

Today, Rebeka's jewelry designs are being worn by customers around the world. The selection of designer jewelry and belts that Rebeka currently offers are characterized by her love for colors and classic designs.
A touch of India's oriental influence may also be found in her creations, but above all one can sense her love for the scenic beauty and colors offered by Israel as well as her birth city of Tel Aviv. Rebeka prefers to work with different metals, woven beads, and precious stones of varied shapes and colors.
In response to her growing popularity in Israel and overseas, Rebeka is planning for the opening of her Flagship store to be located at the Sharona Center, currently under construction on Kaplan Street in Tel Aviv.
Her love for the city's cosmopolitan flavor, and changing skyline, along with its varied colors from the blue of the sea to the greens of its parks has had a major influence on her designs.
Rebeka's positive attitude is contagious,"Israel is an amazing country and Tel Aviv delights me with its ability to blend the new with the old while contrasting its earth tones and natural colors."
Visit the U-Boutique website for Rebeka's jewelry and belt designs!