Heidi Krizer Daroff
North America Director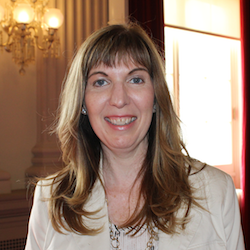 Heidi Krizer Daroff was raised by two very Zionist parents in New Jersey. As a teenager going to Hebrew School, she wasn't quite sure what she wanted to be when she grew up. One thing was clear to her though, she wanted to live a life connected to Israel and the Jewish people. As a young adult Heidi traveled to Israel for the first time and soaked in as much of the land, the people, and the history as possible.

Heidi earned a Master's Degree in Humanities and Social Thought at New York University. As part of that program, she spent two summers studying Jewish History and the Holocaust in Krakow, Poland; earning a certificate from Jagellonian University. This was a life changing experience in many ways. While in Poland Heidi met the man who was to become her husband and a life devoted to the value of Zionism was solidified.

Before joining the Israel Forever team in 2011 as Social Media Director, Heidi had spent the last several years raising her two daughters and teaching young people about Jewish history, the Holocaust, and the rebirth of Israel. In 2014, Heidi assumed the role of North American Director.
To contact Heidi directly, click HERE.