Apple Cinnamon Challah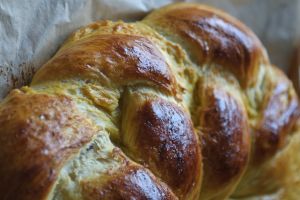 Ingredients
● 2 ½ Tbsp instant yeast
● ¾ cup sugar
● 2 cups boiling water
● ¼ cup vegetable oil
● 2 tsp salt
● 6 cups flour
● 3 teaspoons cinnamon
● 4 Tbsp honey
● 1 apple, peeled and cut into small chunks
● 1 egg, beaten
Directions
In a large mixing bowl, combine yeast, sugar and hot water.
Let sit for 15 minutes until bubbly.
Add flour, 1 cup at a time.
After 3 cups, add oil, cinnamon, and honey.
Mix with hands or in mixer until sticky dough forms.
Turn dough out onto a lightly floured surface and knead for 10-12 minutes.
Flatten dough out into a disc and fold in apple pieces. If using a mixer, you can add the apple pieces right in for another 2 minutes of kneading.
Place dough into well-oiled bowl and cover with a plastic wrap or damp towel.
Let rise in a warm dry area for 1 hour (dough with double in size).
Punch down and let rise again for 1 hour.
Pre-heat oven to 350F.
Punch down dough and separate into 6 or 8 even-sized pieces – depending on if you want to do a 3 or 4 strand braid.
Roll out each piece into a long cylinder shape and lay side by side.
Pinch the ends of the dough together and braid.
Pinch the ends together tightly and lay on baking sheet.
In a small dish beat egg and brush on top of challah after 10 minutes of additional rising.
Brush on another coat after another 10 minutes and sprinkle the top with sea salt.
Bake for 30-35 minutes or until golden.
BeTeavon and ENJOY!
---
More Recipes:
---
Bring Tastes of Israel into your Kitchen!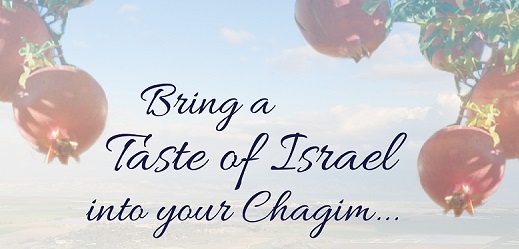 Let the aromas and flavors remind you of Israel, far away, but forever in your heart and in your life!

Click HERE to download our FREE Cooking Israel Cookbook.