4 MILLION BULLETS: THE UNTOLD FIGHT FOR SURVIVAL
---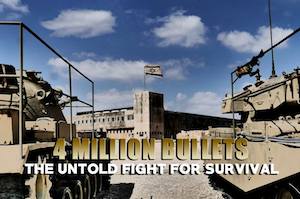 You can help bring history to life. "4 Million Bullets: The Untold Fight for Survival" is a new documentary that tells the inspiring, first-hand stories of international heroism, intrigue, and ingenuity that helped to ensure the creation the state of Israel.
The film reveals how everyday people from North America, South Africa, and Europe – young adults, former World War II soldiers, business people, Holocaust refugees, Jews and non-Jews – came together and defied nearly impossible odds in an effort to establish a nation for the Jewish people.
The Israel Forever Foundation is proud to partner on this important effort to document history as a part of The Israel Memory Project.
To learn more about the project, click HERE.
HELP MAKE 4 MILLION BULLETS: THE UNTOLD FIGHT FOR SURVIVAL COME TO LIFE!