Cooking Israel at Home
Calling all chefs and foodies!!
We are bringing the Tastes of Israel to you!
Join us for this special opportunity to learn to cook Israeli-inspired recipes from
Israeli chefs!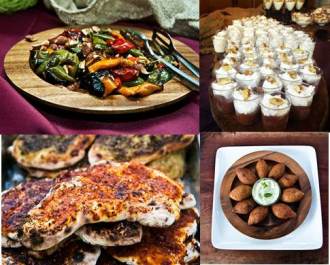 Zachary Fisher excitedly shared, "I really enjoyed yesterday's Cooking Israel event. It was a lot of fun to cook tasty Israeli dishes and bond with friends new and old. The Israel Forever Foundation continues to provide meaningful programming, and now my girlfriend can't say I won't take a cooking class with her."

Deborah Ben-Moshe said, "It was fun AND delicious: 2 very important things!!"
---
---
We're planning our next Tastes of Israel tour!
Make your reservation TODAY!
Here's your chance to host a group of friends as you learn to whip up delectable Israeli-inspired dishes. Let our chefs swoop into your kitchen and cook up a storm, satisfying your palate with a tempting array of Mideastern courses. Enjoy the best of Israeli cuisine, brought to you by incredible Israeli chefs!
Chefs Nir Margalith and Guy Marom of Puzzle Israel are planning a trip to Australia!
Want to savor the best of Israeli food down under? Let us know if you're interested in bringing A Taste of Israel into your kitchen or community.
Get your appetites ready!

Reservation options:


"Cook Israel at Home" in a private setting with 8-20 guests (2 hours)

Cookalong Israel style! in a synagogue or community center up to 150 people cooking together 5 course meal (3 hours)

Cooking Israel demonstration - variety of setting possibilities, from 15 participants (1-2 hours)

*Community events open to the public will be publicized once they are finalized!



Spread the word and get ready to indulge your palate in some Israeli flavor!
---
Check out more on Cooking Israel!