Asara B'Tevet: 10th of Tevet a day of fasting for Jerusalem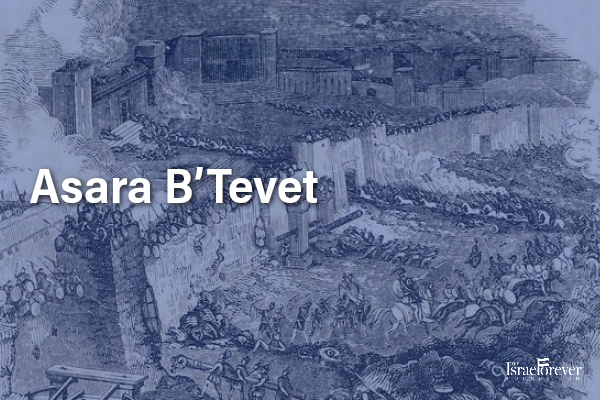 | | |
| --- | --- |
| When: | January 7, 2020 |
| Summary: | On the 10th of Tevet 425 BCE, Nebuchadnezzar laid siege to Jerusalem. This ultimately led to the destruction of Jerusalem, the Temple, and exile to Babylon. Tevet 10 is a day of fasting, mourning, and repentance. |
Details
On Asara B'Tevet, the 10th of Tevet of the year 3336 from Creation (425 BCE), the armies of the Babylonian Emperor Nebuchadnezzar laid siege to Jerusalem. This was the first step in what ultimately led to the conquering of Jerusalem and the Kingdom of Judea, the destruction of the Temple and exile to Babylon.

After an extended siege (30 months), the walls of Jerusalem were breached on Tammuz 17, 3338. On Av 9th of that year, the First Holy Temple was destroyed.

A day of fasting
Tevet 10 is observed as a day of fasting, mourning and repentance, in remembrance of the siege of Jerusalem. We refrain from food and drink from daybreak to nightfall, and add the Selichot and other special supplements to our prayers. More recently, Tevet 10 was chosen to also serve as a "general kaddish day" for the victims of the Holocaust, many of whose day of martyrdom is unknown. This is a religious Zionist custom that connects the shattering of Jewish society at the destruction of the Temple with the attempt to exterminate the Jewish People during the Holocaust.