Exodus (1947)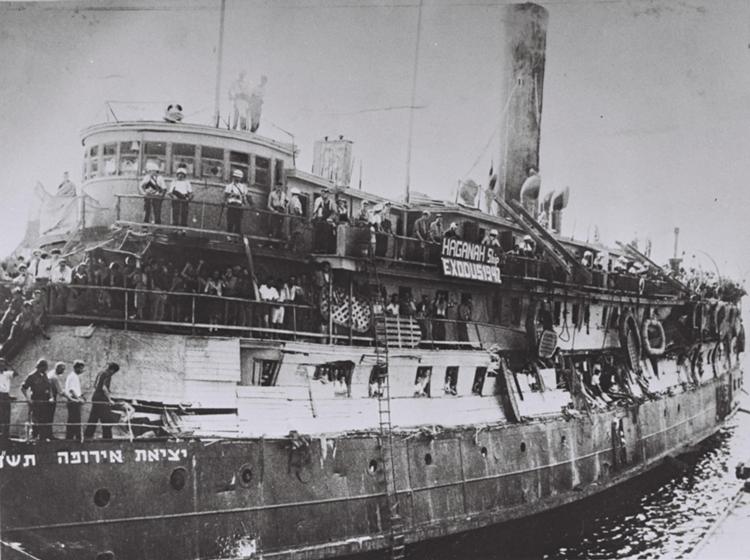 | | |
| --- | --- |
| When: | July 11, 2019 |
| Summary: | The Exodus 1947 left Sète, France in the morning of July 11, 1947. It was carrying 4,515 passengers including 1,600 men, 1,282 women, and 1,672 children and teenagers. |
Details
The Exodus 1947 left Sète, France in the morning of July 11, 1947. It was carrying 4,515 passengers including 1,600 men, 1,282 women, and 1,672 children and teenagers.

The ship had enough supplies to last two weeks. On July 18, 1947, Holocaust survivors on the ship Exodus, were turned away from living the 2,000 year old dream of returning home when the British finally boarded the ship 20 nautical miles (40 km) from the Palestinian shore.

Refusing to allow these survivors entrance into what would soon be called Israel, the British transferred the passengers onto three navy transports to Europe. The refugees were ordered to disembark and refused.

Many including orphaned children, declared a hunger strike and the British were forced to return them to the British-occupied zone of Hamburg, Germany. With worldwide public outrage, the British compelled the passengers to disembark and some were forcibly removed. The passengers were then transferred to displaced persons camps in Germany.

Within a year, over half of the original Exodus 1947 passengers tried to enter Palestine. They were held without trial in prison camps on Cyprus. Finally in January of 1949, when Great Britain recognized the State of Israel, the detainees in Cyprus and all other remaining surviving passengers made aliyah.