The Israel Forever Foundation is pleased to present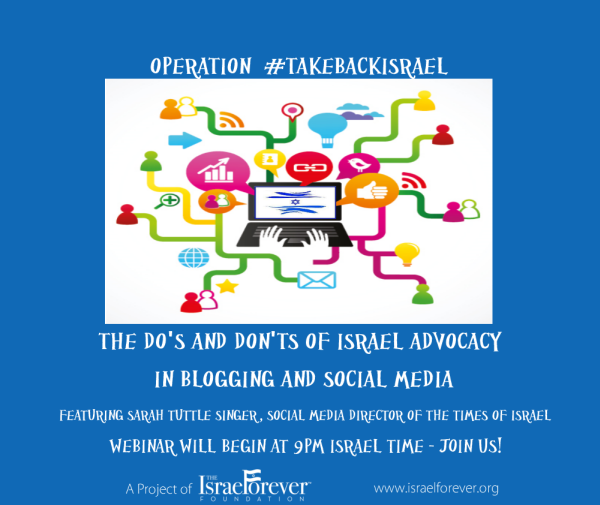 October 30th, 2013 - 9:00 P.M. Israel Time

Social Media Interaction and Sharing:
We'll be live streaming the webinar from our Google Plus page and will make sure to provide the link in every way possible so that anyone interested in joining will be able to learn as much as possible about Israel advocacy online.

To join us online for this webinar, all you have to do is sign on to www.israelforever.org on October 30th at 9:00 P.M. Jerusalem Time!
Want to talk about it and discuss the webinar ONLINE?
We have lots of options for you during and after the event:
Follow us on Twitter @isrl4evr for a live tweeting of Operation Take Back The Media, and others online via the #TakeBackIsrael
Join us on Facebook-- Just post your question in our FACEBOOK EVENT for Sarah or for the other members of the webinar to answer!
Please note that all posts will be moderated as necessary. Any questions not answered during the 1 hour program will be answered in a followup exchange.

We always accept questions via e-mail (media@israelforever.org), just make sure the subject is #TakeBackIsrael & we'll get it answered!
Press Contribute Today to R.S.V.P
The 18NIS ($5) optional donation goes toward the implementation of your Israel Engagement programs!
Everyone who donates will receive recognition for their involvement.