Search Events

Please Join the Israel Action Center for events during our 2nd Annual Scholar in Residence Program, underwritten by the Meltzer Group.
Ethics in the Field
How Does the IDF Maintain Morality During Peace and Conflict?
with
IDF Colonel (Res.) Bentzi Gruber, PhD
Tuesday, November 4, 2014 at 7:30 pm
Congregation Har Shalom
11510 Falls Road, Potomac, MD 20854
Please join the IAC at Congregation Har Shalom for an intriguing presentation by Colonel (Res.) Bentzi Gruber about the moral and legal aspects of the war on terror including Operation Protective Edge and how the Israel Defense Forces (IDF) applies ethics in real time during combat making life and death decisions in a matter of seconds.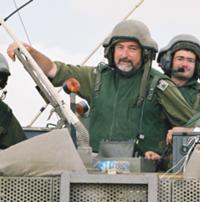 COL Gruber currently serves as Vice–Commander of an armored division of 20,000 soldiers, a position that followed other significant posts of command in the course of more than 30 years serving in the IDF Reserves. This position within the army has given him access and permission to present materials and information that is usually only seen by military or government officials.
COL Gruber will discuss the many strategic challenges Israel faces today, including the critical daily decisions made by IDF officers commanders and soldiers to keep civilians out of harm's way. He will take you behind the scenes of the IDF's daily battle to both ensure the country's security and uphold one of the most rigorous military codes of ethics in the world today. In a unique multimedia presentation combining classified IDF footage, shocking statistics, and riveting personal narration, COL Gruber explores:
The dilemmas constantly facing IDF commanders in locating terrorists within a civilian population
The IDF's unique ethical code
The effectiveness of the IDF's preventative efforts against terrorist attacks.
First-hand accounts and documentation from Operation Protective Edge and the IDF's daily counter terrorism operations.


Visit www.jcouncil.org/scholar for further information and a schedule of COL Gruber's events as the Israel Action Center's Scholar in Residence
---