The Israel Forever Foundation, Endowment for Middle East Truth and American Friends of Likud invite you to a private briefing
"The Smarter Bomb: Women and Children as Suicide Bombers"
Tuesday, September 27, 2016
Location: Cannon House Office Building Cannon Caucus Room
Washington, DC
Time: 10:00 - 11:30 am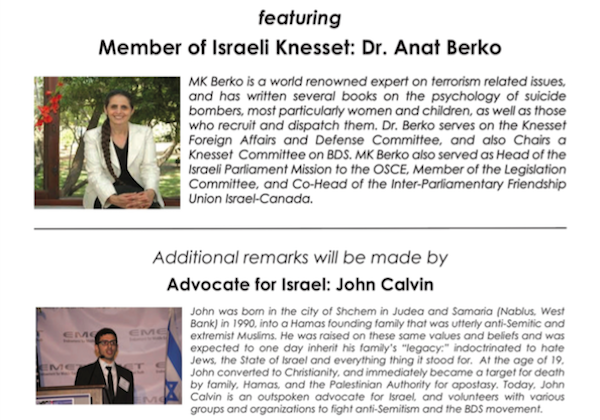 MK Berko will be sharing her expertise on the exploitation of women and children in acts of terror. We will hear additional remarks by John Calvin. Calvin is the grandson of a Hamas Founder who has spent his adult life advocating for Israel.




About MK Berko's Book

This compelling book offers a unique glimpse into the motivations of suicide bombers, especially women and children, and those who recruit and dispatch them. As a woman and a mother, Anat Berko was able to win the trust of imprisoned bombers and speak with them intimately. Entering Israel's most heavily secured cells, she met with female and adolescent would-be suicide bombers and their dispatchers, lawyers, and interrogators. The personal stories are greatly enriched by the inclusion of the sketches and letters many prisoners gave to the author.

She explores vital questions: What leads individuals to place explosives on their bodies, kill and injure scores of civilians, and take their own lives? Do men really believe that death will transport them to paradise, where Allah, virgins, and wine await them? Are women victims of unbearable pressure to commit this act of terror? Can a woman be "good" according to the criteria of Arab/Palestinian society and a terrorist at the same time? Is involvement in terrorism a sign of the liberation of Palestinian women or another way of preserving their social inferiority, thus explaining their low status and the inferior rewards the families of female suicide bombers receive? Who are the dispatchers, and how do they manipulate and convince women and youngsters to go calmly to their death?

The answers to these questions offer a rare and candid portrayal that will be essential reading for all those wanting to understand the interior world of suicide bombers and how to communicate with terrorists.

Summary from Amazon
Recommended for you:
---
---
SUPPORT VICTIMS OF TERROR