IFF Yom Hashoah Ceremony 2013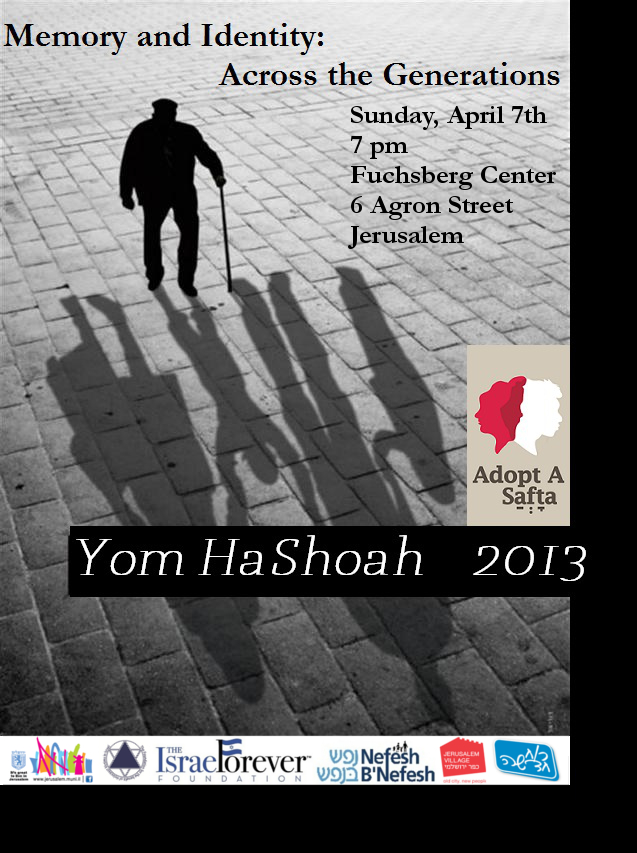 Memory, identity and connection lie at the core of Israel Forever. We are trying to give back to those who support Israel rather than always asking people to support and give to Israel. We keep asking ourselves, how a relationship, a connection with Israel can improve someone's life, someone's identity. And every initiative we develop seeks to celebrate or strengthen that connection in some way.
On the evening of April 7th, Yom HaShoah, we will remember the 6 million Jews who lost their lives simply for being Jews. But the memory of those we have lost is never far from our minds and hearts. The Israel Forever Foundation together with Adopt-A-Safta, the Jerusalem Municipality, Nefesh B'Nefesh, Ruach Chadasha, Jerusalem Village, and The Foundation for the Benefit of Holocaust Victims in Israel will be celebrating the launch of the Jerusalem branch of the Adopt-A-Safta program which pairs Olim with Holocaust survivors to provide companionship and to be a legacy to their experiences before, during and after their Holocaust experience.
This unique Yom HaShoah remembrance program, created by Dr. Elana Yael Heideman, Executive Director of The Israel Forever Foundation, reflects not only on the memory of the 6 million victims, but also on the personal connection to Holocaust Memory for the younger generation today.
When one decides to make Aliyah, they are challenged to understand the uniqueness of Holocaust Memory in Israel which can be very different from Holocaust memory for Jews in the Diaspora. There will always be an echo of the dream of those victims who perished believing in the words of Hatikvah that someday we might be able to fulfill the 2000 year old dream and return to our ancient homeland to live free as Jews in a Jewish State.
Together, we will recall the hope that persevered in spite of immense suffering, we will learn of the rebuilding of life in Israel, and as witnesses to witness, we shall seek to comprehend how survivors have coped with the painful memories so that we too, might learn lessons that we can relate to in the future.
This Yom HaShoah ceremony is intended to give Olim a chance to stop for a moment and reflect on their own journey, on the reasons they came to build a life here in Israel, and how Holocaust memory binds all Jews together, wherever they may be from in the world.
Click here to R.S.V.P: Free entrance, limited seating.

For those who cannot join us, the program and images from the ceremony will be posted here after Yom Hashoah.
Please check back with us.