EYTAM'S BAR MITZVAH PROJECT
---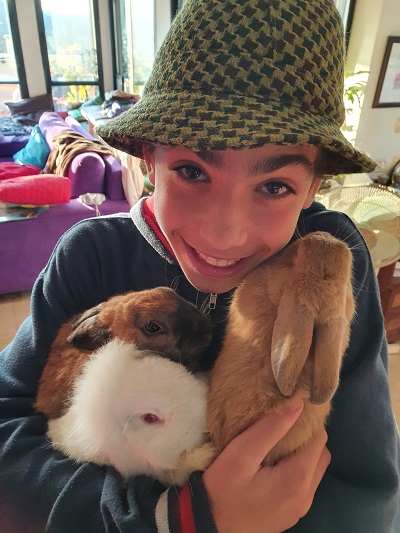 Hi! My name is Eytam and I live in Nes Harim, Israel. I love nature, reading, art and adventures, and above all, I love all animals.
When I learn about animals suffering, it hurts that I cannot do more to help them. So I have decided to dedicate my bar mitzvah tzedakah project to raising money for helping animals in danger throughout Israel..
Animals are very therapeutic and help people feel better, so I am also excited to be collecting money to support animal therapy care especially with bunnies. This is one great way I am trying to heal hearts of animals and people through my mitzvot.
DID YOU KNOW that an entire code of laws called צער בעלי חיים - tsa'ar ba'alei hayim - the requirement "to prevent the suffering of living creatures") mandates that animals be treated with compassion? Jews are not even allowed to "pass by" an animal in distress or animals being mistreated, even on the Sabbath.
Please contribute to my bar mitzvah campaign, and help me make a difference.

---
שלום שמי עיטם היידמן. אני גר בנס הרים, ישראל. אני אוהב ללמוד, לטייל, לקרוא, לחקור, ומאוד אוהב בעלי חיים לטפל וללמוד עליהם. המון בעלי חיים שנכחדו בארצנו ואני רוצה לתת לזה סוף
.השנה אני החלטתי לתרום כסף עם עזרתכם וארגון בוא אפשר לתת סוף להדחה וגם לפגיעה בבעלי החיים המדהימים שיש בישראל
.השקיפות ופיגועי טרור ביערות ישראל הרגו המון בעלי חיים והרסו בתי גידול של כל בעלי החיים מוחים ועד עופות דורסים ויונקים
.בתרומת אני תורם לא רק כסף אלה גם תקווה מרפאת לב לכל בעלי החיים וגם לאנשים שידעו שאפשר לשפר את העולם
!תודה רבה הכל ואני שמח לצרף אתכם לתוכנית בר מצווה שלי! תודה רבה