For the next 24 HOURS ONLY every donation will be MATCHED DOLLAR FOR DOLLAR to help us advance our program development with the best Israel engagement content to inspire and deepen the Israel connection for Jews worldwide.

"#Giving Tuesday challenges every presumption about the inherent selfishness of human nature and provides us the power not only to make a difference but to change and repair this world." Rabbi Peter J. Rubinstein
For 4 years running, one day a year has been set aside as a global day of giving. A day where communities, organizations, and individuals can show their appreciation and give to a cause close to their hearts. With 30000 participating causes across 68 countries, Israel Forever is proud to take part in what we hope will be a day that you, our community, will help us build for another successful year of making Israel personal.
This year, This year, we want YOU to be able to decide where your funds go! All contributions will be used solely to further the development and advance the outreach of these initiatives so that we can reach more and more people around the world.


Help us reach our goal of raising $50,000 for Giving Tuesday!

Help us reach more communities, organizations, and families with the best Israel engagement content possible.

Select a program of your choice and MAKE ISRAEL PERSONAL.

After all giving is just another way to say, thanks.




To learn more about the proposed budget allocations, please contact us and we will be happy to share with you in detail our vision for the future.

Let your Tzedakah be a contribution to the future of Israel and the Jewish People!
---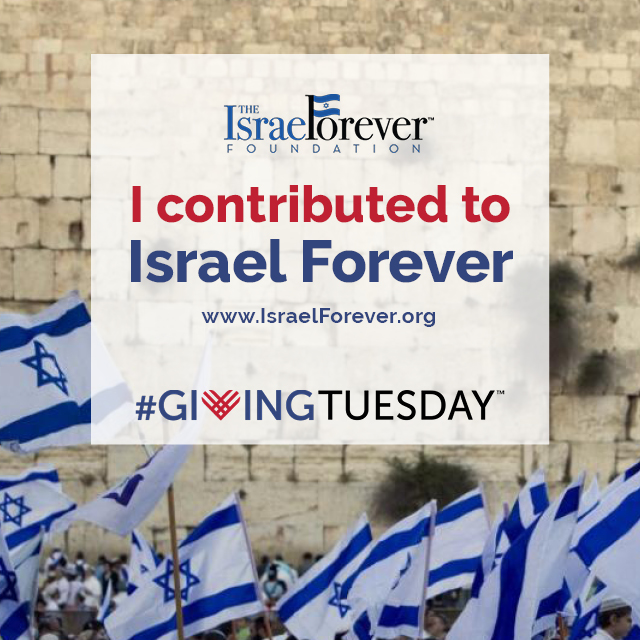 Make sure to show your support via social media and let your friends and followers know who you're giving to and why!
Share this badge on your Facebook or Twitter and be proud of your #GivingTuesday contribution!



HOW DOES #GIVINGTUESDAY WORK?




Why Are You Giving to IsraelForever on #GivingTuesday?