Memorializing Exodus
Israel Forever's North America Director, Heidi Krizer Daroff, recently sat down with Jerry Klinger to hear about his effort to secure the memory of the passengers on the Exodus as we approach the 70th anniversary of the ship's fateful voyage. As the founder of the Jewish American Society for Historic Preservation Jerry has been committed to preserving Jewish memory where the need arises.
Listen as Jerry tells the story of the struggle of the hundreds of men, women, and children, many of whom were survivors of the Holocaust as they valiantly tried to reach the land of Israel and make a home for themselves.
---
Recommended for you:
---
JOURNEY TO STATEHOOD: EXODUS 1947

About the Author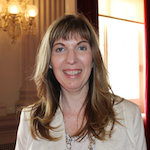 Heidi Krizer Daroff enjoys sharing her passion for Israel with others as North America Director of The Israel Forever Foundation. While her passport indicates that she does not reside in Israel, her heart definitely does. Through her storytelling, Heidi invites you to grow your involvement and add more Israel Forever into your daily life.