A Knight In Shushan
By Ariana Heideman Tipograph

In honor of Esther and Mordechai's Jewish pride, young professionals in the Washington, DC area gathered on Thursday, March 8 to "get their Megillah on" at our Purim celebration "A Knight in Shushan with Israel Forever."
Colorful costumes speckled the room at Current Bar & Lounge in DuPont Circle. The packed house mingled, networked and noshed on hamantaschen as they danced the night away to the musical stylings of one of DC's finest DJ's, Mr. Bonkerz.
Attendees declared their love and commitment by becoming Virtual Citizens of Israel™, as well as made contributions to support IFF and the IDF Lone Soldier Center, an organization which provides meals, beds and a place for soldiers' to hang on their weekends off from the army.
As event coordinator and volunteer Director of Communications and Special Events for IFF, it was an amazing experience to bring together my network of young adults in DC in the spirit of Am Yisrael Chai!
About the Author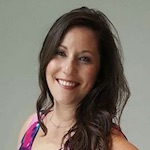 Ariana Heideman Tipograph is the Associate Director of The Israel Forever Foundation. As an Israel enthusiast, passionate about the future of the State of Israel and the Jewish People, Ariana devotes her personal and professional life working and volunteering with various Jewish and Israel organizations around the world.