Christmas in Israel
by Michael Ganoe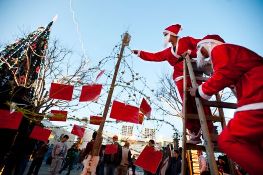 The month of December is always exciting because not only is it my birthday, but one of the most celebrated holidays in the U.S...Christmas!

For me, the holiday would begin on Thanksgiving Day with 24 hours of "A Christmas Story", playing carols from the radio or internet daily, preparing for a Christmas party at my home in Washington D.C. where the meal was homemade and very close friends in attendance. And of course, there is the driving into the hills of Maryland to traditionally cut down my very own Christmas tree.
Then, I begin the 4 hour drive to West Virginia to be with family and celebrate festively with ongoing conversation of the year's events and Christmases past; while dish, plate, and platter filled with foods of every holiday delicacy are passed around to fill our cheeks between breathes.

When all is said and done the entertainment really begins as Christmas songs fill the rafters of my Uncle's log home on the family farm. This may sound a bit too picturesque for some, but there is a bond within my family that has stayed traditionally loving. This is the theme of Christmases bygone.
Moving forward to December 2012 the picture is vastly different. In October of this year I was given the opportunity to live and work in the Nation of Israel. So having a deep rooted love for a country not my own, and having read about since I was a young lad, I sold everything and arrived with no one meeting me at the airport, no family members to greet, no friends to call upon.
I adjusted to my new environment rather quickly, but as Christmas approached I began to pine for home as my heart reflected on those times of joy with my family.
Naturally, those memories and emotions will last a lifetime, but in my new environment there is a joy I found during this month in spite of the change.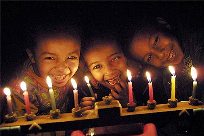 Israel celebrates Chanukah, or The Festival of Lights, which lasts for 8 days. I was warmly invited to various homes for the lighting of the Menorah candles and scripture reading in honor of the holiday, followed by a scrumptious Kosher meal. I left each evening with an overly satisfied stomach, new friends, and added memories that brought a better understanding and great appreciation for my new home.
Israeli's are very warm and caring and many times I was asked what I would be doing during my holiday celebration of Christmas. With no clear answer, an invitation was extended to me for dinner, although it's not a holiday celebrated among Jewish Israelis.

That type of simple consideration for my well being is so appreciated by friends and family in the states while absent from them, especially during this time of year.
Israel is the place I have chosen to make my life. Israelis are the people I have chosen to work with and since my arrival in October, the greatest gift they have given to me is their concern, warmth, and welcome this Christmas in a country that is not my own.
Merry Christmas and Happy New Year to you and your family.
---
Read more by Michael Ganoe