Bike For The Fight Comes To Washington DC
Have you heard about Tom Peled and Bike For The Fight?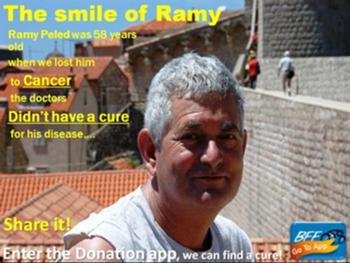 In an incredible show of strength, Tom a 25 year old young man from Israel, turned the immeasurable grief brought on by losing his father to cancer into something in which we can all become involved.
With the goal of raising money for the Israel Cancer Research Fund, Tom and his friends are biking their way across the United States, from Los Angeles to New York, stopping to celebrate in various Jewish communities along their way.
Why come to the United States and ride a bike you may wonder?

Tom explains, "the only way to get out of this situation was to challenge myself on a mental, physical, and spiritual level."
"The faster we pedal, the faster we find the cure for cancer!"

Along with a team of volunteers and sponsors, Tom and BFF are deeply committed to raising awareness and money for the fight against cancer. Tom sees the very real potential for his organization to be the "Livestrong of the Jewish People."

Tom and Bike For The Fight represent so much about what we at the Israel Forever Foundation believe in: unity, friendship, and the coming together of people from various backgrounds to help one another.
Israel Forever is honored to be a part of welcoming Tom and his team when they arrive in Washington DC!
We hope you will join us on Sunday October 7, 2012 1130AM at the DCJCC to wave Israeli flags and welcome Tom and the BFF team to our Nation's Capital.

This FREE event is open to the entire community!

RSVP at www.isra.li/bike
As you look ahead at this fresh new year of 5773, we at IFF hope you will consider donating to this important cause and help Tom raise much needed funds to further cancer research. TOGETHER we can help him realize his goal of a "Livestrong of the Jewish People".
---