Ancient Groove – Jewish music from Israel travelling the world
By Roy Zakai and Ofer Ronen
We are Ancient Groove, a musical group from Israel, dedicated to a new interpretation of Jewish music.
Judaism in Israel can sometimes be confusing. Jewish people from four corners of the earth arrived to a very small piece of land, here by the Mediterranean. Though all of us may celebrate Passover Seder on the same night, when you enter each home, you may observe very diverse sights and sounds. Different foods, traditions, languages, and music are sure to differ, depending on the family. So when we first started to play Jewish music together on our guitars, each of us came with a very different cargo on his back.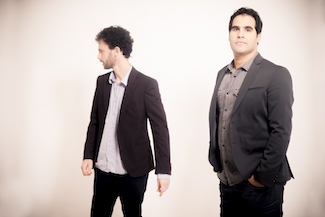 "As an Israeli guitarist whose origins go back to Yemen and Kurdistan­ I raq," says Roy, "I found myself attracted to the classical world, and the classical guitar in particular, though I was not exposed to this kind of music at home. After many years of immersion in the classical world and completing musicological studies in the Hebrew University, I felt the need to combine the western classical music expertise with the culture I grew up on.
Around that time I met Ofer, a flamenco guitarist, who had recently come back from three years in Spain. The piece that encouraged me to get into this musical journey is definitely the impressive piyyut A don Haselichot, which is the most memorable of my childhood' holidays memories of visiting the synagogue with my family. My goal, among others, is to bring this type of ancient music to my own individual and intimate world, making it into an 'Ancient Groove'."
Ofer comes from an Ashkenazi kibbutz family which was part of the establishment of three kibbutzim over two generations: "Although I grew up in Tel Aviv rather than in a kibbutz, I was raised to value nature, outdoor life, and hard work. One of the features of some of the kibbutzim was their distancing themselves from religion. Though in my family we kept all of the Jewish holidays, I knew close to nothing about prayers and Piyyutim (Jewish religious songs and poems). During my studies of musicology in the Hebrew university, I started to work at the Jewish Music Research Centre. This exposed me to the artists and music compositions that comprise the huge field of Jewish music.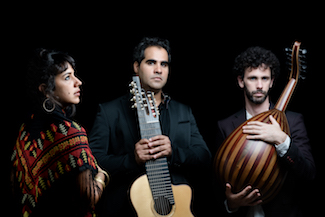 I realized that Jewish music could mean many things: a Hazzan (cantor) from Iraq singing alone, or a full symphonic orchestra playing a version of the Kaddish; A wedding song from mountain Jews of central Asia, or an ancient piyyut with music from the Curacao synagogue in the Caribbean islands. Combining this meaningful musical repertoire with my own musical influences, flamenco guitar and Middle Eastern Oud, became an ambition.
When we met as colleague guitarists, while seeping a cold Maccabi beer during a gig in Tel Aviv, we understood that we shared a common goal. Although we come from different backgrounds, music and heritage connects us easily. We began approaching the well known tunes of Israeli and Jewish tradition, and tried to give them contemporary meanings based on our life experiences as individuals, musicians, and Israelis. We aimed to do this by taking the songs out of their original cultural and religious contexts and bringing them closer to our own musical universe, be it flamenco, classical music, Jazz, ethnic music, and even progressive rock!
We tried to create a sound of our own, which is indebted to the vast repertoire of the past but also committed to the new and upbeat musical universe. In other words, ANCIENT GROOVE.
Ancient Groove, led by Roy Zakai and Ofer Ronen, brings a unique air to the Jewish music scene. Zakai and Ronen are both Israeli based guitarists, Zakai with a classical background and Ronen from a flamenco and ethnic world. They approach canonical Jewish music with their new way, by taking them out of their religious and cultural context and bringing them closer to their own contemporary world, while maintaining a balance between musical complexity and a great musical expression of emotion. Their band includes voice, percussion and guests artists. Check them out on Facebook by clicking HERE.
---
Recommended for you:
---
How are You Celebrating Israel?