Why is there a Bomb Shelter at the United States Capitol?
By Ariana M. Heideman
Juxtaposed against the backdrop of the Nation's Capitol building, a massive concrete structure beckoned passers-by to experience and engage with a reality drastically different than their own.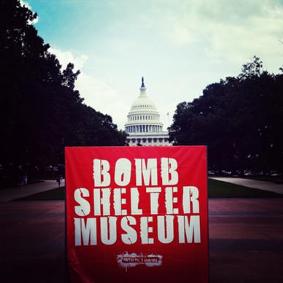 On July 22nd 2014, with Operation Protective Edge underway and missiles continuing to fall on over 2 million Israeli citizens, The Israel Forever Foundation was pleased to co-sponsor a unique and important event on Capitol Hill by Artists 4 Israel.
The Bomb Shelter Museum is a mobile and interactive bomb shelter, "the brainchild of an installation artist who is determined to help people understand what it truly means when Israelis are forced to seek shelter from missile and rocket attacks." says Craig Dershowitz, Director of Artists 4 Israel.
The mission of Artists for Israel is "Create Beauty * Create Awareness * Create Advocates", which they fulfill by bringing some of the world's most famous graffiti artists to Israel to paint murals of peace on the sides of bomb shelters.

Their collective of artists have fostered a "cultural resistance," demonstrating Israel's freedom of expression and promotion of the arts while trying to increase awareness and understanding of the Israeli reality of life under attack.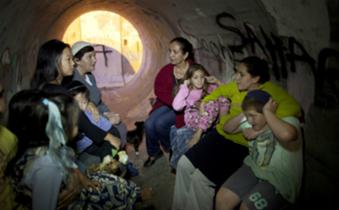 "The sights, sounds, smells and feel of an attack are recreated in frightening detail, while information is provided to attendees describing the human elements of a bomb shelter that [are] so often overlooked when considering these attacks."




Hear about the powerful experiences of those who took part in this powerful experience, including IFF's North America Director, Heidi Krizer Daroff:
During Operation Cast Lead in late 2008-early 2009, A4I brought their first group of artists to Sderot, a city very close to the border with Gaza which has had rocket attacks reigning down on them for the last several years.

The goal of the initiative is to help comfort the children who are forced to run for safety and take cover inside of what are most often small, hot, dark, uncomfortable, and frightening surroundings.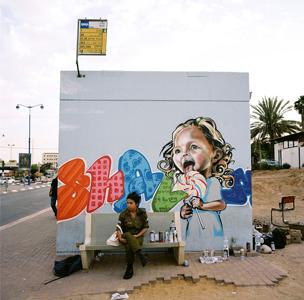 A few days after hosting the exhibit in front of the US Capitol in Washington, DC, members of the A4I team headed back to Israel to paint bomb shelters in Ashdod and Ashkelon; two Israeli cities that have been hit very hard in recent weeks by Hamas missile terror attacks. During their visit to Ashdod to inspect the bomb shelters they would be painting on their next trip, the artists found themselves taking shelter as rockets from Gaza landed around them.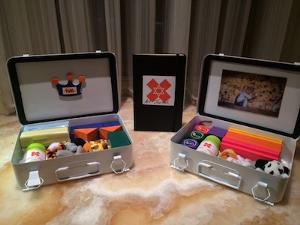 In Fall 2014, A4I launched their newest initiative, The Arts Aid Kit to help children affected by physical attacks upon Israel through a creative triage of the spirit in the critical first hours after exposure to trauma.
Stay tuned for more updates from this exciting initiative!
"The power of creation is equal to the hope of redemption. Our artists have hope that by leaving their mark on the walls, the residents of Sderot and other communities under attack not only awaken to a more beautiful city but a more secure future."


---