Boston Teens Stand With Israel!
By Hannah Goldstein, Cohort 5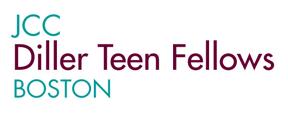 The Diller Teen Fellows is a pluralistic, international, Jewish leadership program. Over the course of 15 months Fellows learn about themselves and the world around them through the four pillars of Diller: Tikun Olam, Leadership, Jewish Identity, and Israel. A huge part of the program revolves around a seminar in Israel where the Boston Cohort joins 19 other contingents to deepen their connections with and learn about the country.
Unfortunately, due to the hostilities in the region, this years' trip was postponed until the Winter, as Israel has been under attack from Hamas, a Palestinian terrorist organization that governs Gaza. Israeli civilians and soldiers alike have been constantly bombarded with rockets fired from Gazan territory. Thankfully, the Iron Dome (missile defense system) has been extremely successful, intercepting around 95% of the rockets. Not only has Hamas been firing rockets, it has built an array of tunnels infiltrating the border allowing the possibility of an invasion. The Israel Defense Forces (IDF) have been fighting back to reduce these dangerous threats and protect the people of Israel.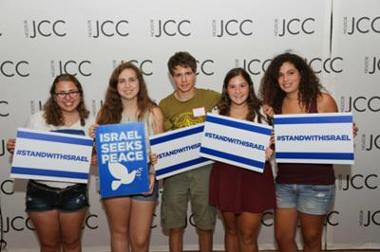 Although we, the Diller Teen Fellows, do not always agree with every decision the Israel Government and IDF might make, we do agree that Israel has the absolute right, and in fact the obligation, to defend itself.

We fully support Operation Protective Edge to end the violence perpetrated by Hamas and bring peace to both Israelis and Palestinians.
To compensate for our postponed trip and to demonstrate our solidarity with Israel, our cohort decided to host an active, teen-specific gathering called #BostonTeensStandWithIsrael. We wanted to raise awareness in addition to making an impact, so we hosted stations where participants could take action.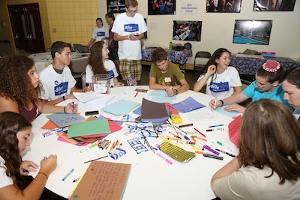 Stations Included:

Care Packages for Israeli Children and Soldiers: A drive to collect items for children in the affected regions along with soldiers in the field, and packaged boxes to distribute through our Israeli counterparts. We have sent items to the Navy in Haifa through CJP in Haifa, The Aleh Negev Rehabilitation Center, and the Israel Forever Foundation.

Social Media: Individuals learned how to advocate for Israel and voice their opinions via social media. For example, Participants could log into their Facebook and choose an article (that they agreed with) to post.

#RaiseYourFlag Campaign: Participants could take pictures of themselves holding posters and signs that were supportive toward Israel. These pictures were sent to Israelis and posted on social media.

Video Messages for Soldiers: Individuals (or groups) could record a video message to send to soldiers articulating support or just a little more attention.

Homemade Cards for Children and Soldiers/Artists4Israel: Participants could draw pictures to place in bomb shelters and write letters to both children and soldiers.
In addition to our stations, we had a guest speaker, Perry Newman, the director of Israel Advocacy from CJP who spoke about the current conflict and how important it is that we, as teens, advocate for Israel. Dani Weinstein, the Director of Young Adults at CJP who helped us plan the event, joined Mr. Newman and shared his pride in our having pulled everything together in such a meaningful way. We were also joined by special guests Ariel Liebhaber, Ruth Kaplan, and Jill Smilow from the Living Bridges Committee through the Boston-Haifa Connection. In attendance also were members of the Board of the JCC and supporters of the Diller program. Every speech inspired us and made us feel like we were truly making a difference for Israel and for Israelis, even from a distance.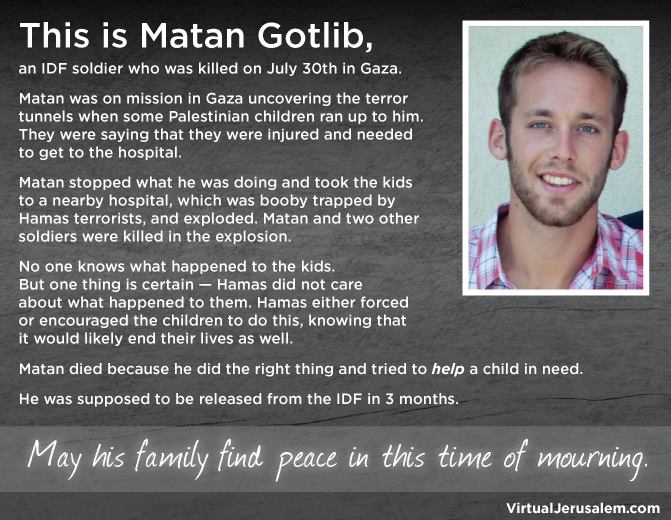 We also discussed a tragic event that had happened the day before our program, in which Matan Gottlieb z''l, a former Diller Teen Fellow from Rishon L'Tzion, was killed in Gaza while serving in an elite unite. We read about him from a former Boston-Haifa staff member who was a friend of his, Maayan Haagbi, whose words touched all of our hearts.

Together, we lit a yartzheit candle for him, as well as the other fallen soldiers during this conflict, as we were reminded of how the reality in Israel can so easily hit close to home for Jews far away and in our own Diller Teen Fellows program.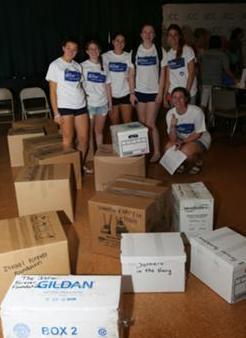 The event was vibrant and successful. We had significantly more participants than expected and sent over 16 large care packages.

We achieved our goals of raising awareness and taking action.

We felt good to be able to contribute with this event and provide an outlet for other teens to also help make a difference.

We are proud to say that #BostonTeensStandWithIsrael!


For all photos of our event please click here.

To see a video montage of our messages to soldiers please click here!
---
How do you seek to make a difference for Israel, for yourself, for our fellow Jews?